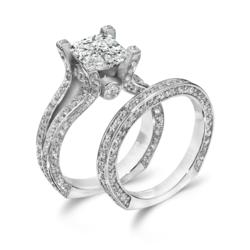 All of us at Birkat Elyon on incredibly thankful for our success in 2012 and we cannot wait to see what 2013 has in store for us.
New York, NY (PRWEB) December 19, 2012
Birkat Elyon, celebrated cubic zirconia jewelry manufacturer, is excited to report record sales numbers for the 2012 holiday shopping season.
Headquartered in New York City, New York, Birkat Elyon has been serving their loyal customer base for nearly 27 years. Using only the highest quality Russian formula, Birkat Elyon sells and manufactures the world's finest cubic zirconia. Each Birkat Elyon stone is hand cut and polished using the same precise technique used by master jewelers when refining fine diamonds; a time intensive method which produces CZ with a purity level of 99.9%. The superior quality and luminosity of Birkat Elyon cubic zirconia jewelry makes it difficult for even seasoned gemologists to identify them as simulated diamonds.
In years past, the designers at Birkat Elyon have reported strong sales numbers throughout the holiday shopping season. Offering classic looks and designer inspired pieces, as well as custom design services, Birkat Elyon CZ jewelry has always proven to be a popular holiday gift. From CZ engagement rings, just in time for a holiday proposal, to cubic zirconia earrings and necklaces; the Birkat Elyon team is always eager to help their customers find the perfect holiday gift.
After experiencing slowed but steady holiday sales in recent years, in the wake of the recent financial crisis, Birkat Elyon is pleased to report a significant jump in holiday sales in 2012. The Birkat Elyon team reported early indications of holiday sales growth in late October as holiday orders began pouring in.
"Though we were optimistic early in the holiday shopping season, we are pleasantly surprised to report that sales exceeded even our loftiest forecasts," said Rebecca Daniel, Senior Designer and Sales Director at Birkat Elyon in New York. "It is always an honor to help our customers select and even design the perfect holiday gift for the special people in their lives."
In the weeks following Hurricane Sandy, which hit the Eastern Seaboard on October 31, the Birkat Elyon staff was pleased to experience little impact on order volume. A company which has been based out of New York since its doors first opened in 1986, Birkat Elyon was expected to experience a major setback due to the superstorm. A true testament to the resilience of those impacted by the storm, Birkat Elyon and other area companies were able to return to work and make the 2012 holiday season a success.
"All of us at Birkat Elyon on incredibly thankful for our success in 2012 and we cannot wait to see what 2013 has in store for us," added Daniel.
From classic CZ pendants, to trending cubic zirconia cocktail rings; the Birkat Elyon team delivered many beautiful and unique pieces just in time to spread holiday cheer. New and returning customers alike took advantage of Birkat Elyon's custom design services like never before, giving the design team the opportunity to create many extraordinary pieces. In a short two month time period, the Birkat Elyon team fulfilled a record number of orders and closed out their most successful year to date.
Watch for more exciting announcements from the Birkat Elyon team in 2013 as they strive to reach new heights and further expand their loyal customer base. To learn more about Birkat Elyon cz jewelry, visit them online at http://www.birkatelyon.com or call 877.777.8352 to speak to one of their talented jewelers.
About Birkat Elyon:
Birkat Elyon is an online luxury cubic zirconia jewelry manufacturer, specializing in 14K gold, 18K gold and platinum designs. Birkat Elyon has more than 20 years of CZ jewelry expertise. Located on Park Avenue in New York City, Birkat Elyon offers free wedding jewelry consultations for the selection of readymade designs, as well as for custom-made jewelry.