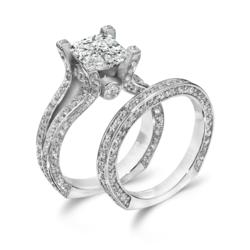 Helping grooms select and even design their ideal engagement rings is one of the most rewarding parts of what we do.
New York, NY (PRWEB) May 22, 2012
Birkat Elyon, acclaimed cubic zirconia jewelry manufacturer, is excited to kick off the 2012 wedding season helping a growing number of grooms save on superior quality cubic zirconia engagement rings.
Founded in 1986, Birkat Elyon is regarded as the world's leading manufacturer of fine cubic zirconia jewelry. Using only the highest quality Russian formula, Birkat Elyon cubic zirconia are of the very highest quality. Each stone is hand cut and polished with the same precision used by master jewelers when refining diamonds. This unrivaled attention to detail produces the world's most dazzling cubic zirconia stones. In fact, each Birkat Elyon stone has a purity level of 99.9%. The unsurpassed quality and beauty of Birkat Elyon stones makes it difficult, even for gemologists, to recognize them as synthetic gemstones.
Today brides and grooms are faced with incredible financial pressures. Considering the average wedding in 2011 cost upwards of $25,000; engaged couples are looking for any and every opportunity to save. For most grooms, the first major expense in the entire process is purchasing an engagement ring. The exorbitant cost of diamond engagement rings is simply too much for many grooms to afford and explains the recent uptick in sales of cubic zirconia engagement rings.
In recent months the designers at Birkat Elyon have been hard at work fulfilling a flood of cz engagement ring orders. From solitaries to ornate settings, Birkat Elyon offers designer styles and custom pieces. Since early January the Birkat Elyon designers have been working with a growing number of grooms, helping them select and/or design custom pieces for their soon-to-be brides. Available in 14K gold, 18K gold and platinum settings; they truly offer cubic zirconia engagement rings to meet any budget.
"Helping grooms select and even design their ideal engagement rings is one of the most rewarding parts of what we do," said Rebecca Daniel, Senior Designer and Sales Director at Birkat Elyon in New York. "It is an honor to play a part in this special time in our customers' lives."
In response to the tremendous growth Birkat Elyon has seen in cz engagement ring sales in 2012, they recently announced the launch of their complete line of cubic zirconia wedding ring sets. These beautiful sets include traditional and contemporary pieces, allowing couples to select affordable wedding sets that are as unique as they are dazzling.
The Birkat Elyon cz engagement and wedding ring sets are quickly growing in popularity as more and more couples discover their beauty and value. Watch for more exciting developments from the designers at Birkat Elyon as they work to meet the growing needs of their expanding customer base. To learn more about Birkat Elyon cz jewelry, visit them online at http://www.BirkatElyon.com or call 877.777.8352 to speak to one of their talented jewelers.
About Birkat Elyon:
Birkat Elyon is an online luxury cubic zirconia jewelry manufacturer, specializing in 14K gold, 18K gold and platinum designs. Birkat Elyon has more than 20 years of CZ jewelry expertise. Located on Park Avenue in New York City, Birkat Elyon offers free wedding jewelry consultations for the selection of readymade designs, as well as for custom-made jewelry.
###