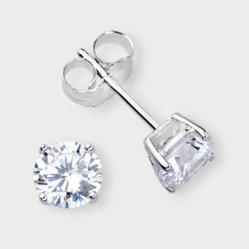 As jewelry designers and fashion lovers ourselves, we work to stay on trend with our designs. This has been one of the secrets to our success over the years.
(PRWEB) September 25, 2012
Birkat Elyon, acclaimed high-end cubic zirconia jewelry manufacturer, is reporting an increase in sales as new and returning customers look to capture trending fall fashion looks for less. As bold, classic looks prove to be popular among fashion columnists, accessories including eye-catching cubic zirconia jewelry are selling in record numbers.
Established in 1986, Birkat Elyon has since become widely recognized as the world's leading manufacturer of fine cz jewelry. Using only the highest quality Russian formula, Birkat Elyon cubic zirconia are the very highest quality on the market today. Each Birkat Elyon stone is hand cut and polished with the same attention to detail used by master jewelers when refining fine diamonds; producing the world's most dazzling cubic zirconia. In fact, Birkat Elyon's commitment to quality produces cz with a purity level of 99.9%. Set in 14K, 18K gold and platinum settings; Birkat Elyon cz jewelry gives the look of the world's finest gemstones at a fraction of the price.
The fashion industry is currently abuzz as highly anticipated fall collections, from top designers, hit shelves around the globe. In recent weeks the world's leading designers have been releasing beautiful collections featuring bright colors and classic silhouettes. From scarves and riding boots to maxi skirts and sparkling jewels; fashion columnists and bloggers are raving about the elegance of these trending garments and accessories.
Birkat Elyon offers an extensive collection of cubic zirconia fashion and bridal jewelry. In response to the looks featured during Fashion Week, the Birkat Elyon jewelers began designing and even customizing trending cz jewelry pieces. From sparkling cocktail rings to classic pendants and drop earrings; Birkat Elyon offers a variety of statement pieces to compliment today's trending looks. Using both cubic zirconia and synthetic gemstones to create each piece, the Birkat Elyon master jewelers are helping their customers achieve high-end jewelry looks at incredible savings.
In recent months Birkat Elyon has experienced a surge in sales of these statement cz jewelry pieces as fall trends have begun hitting store shelves. Though they were first previewed in February, these fashions are only now becoming available for purchase. Just as many columnists and bloggers predicted, fashion lovers are turning to vendors like Birkat Elyon to help them emulate these classic looks.
"We enjoy helping our customers find the statement pieces they love at prices they can afford," said Rebecca Daniel, Senior Designer and Sales Director at Birkat Elyon in New York. "As jewelry designers and fashion lovers ourselves, we work to stay on trend with our designs. This has been one of the secrets to our success over the years."
As orders continue pouring in, the Birkat Elyon design team is hard at work. From custom pieces to unique Birkat Elyon designs; they are helping their growing customer base find and even design the perfect look. Some of their most popular fall pieces include the exclusive Birkat Elyon simulated emerald ring and the princess cut cz tennis bracelet.
In response to rising consumer interest in these and other looks, Birkat Elyon is working to create more unique pieces. In addition, Birkat Elyon is addressing trending styles and fashion news in the company's recently launched Cubic Zirconia Blog. Watch for more announcements in the coming months, from the Birkat Elyon team as they continue to cater to the needs of their valued customers. To learn more about Birkat Elyon cz jewelry, visit them online at http://www.birkatelyon.com/home or call 877.777.8352 to speak to one of their talented jewelers.
About Birkat Elyon:
Birkat Elyon is an online luxury cubic zirconia jewelry manufacturer, specializing in 14K gold, 18K gold and platinum designs. Birkat Elyon has more than 20 years of CZ jewelry expertise. Located on Park Avenue in New York City, Birkat Elyon offers free wedding jewelry consultations for the selection of readymade designs, as well as for custom-made jewelry.