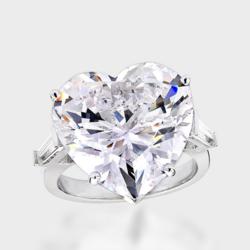 New York, NY (PRWEB) February 06, 2013
Birkat Elyon, esteemed cubic zirconia jewelry manufacturer, is excited to report an influx of orders as CZ jewelry again proves to be a popular Valentine's Day gift.
Founded in 1986, Birkat Elyon has since earned a reputation as the premier manufacturer of the finest cubic zirconia jewelry in the world. Using only the highest quality Russian formula, Birkat Elyon produces cubic zirconia that are second to none. Each stone is hand polished and cut with the same attention to detail used to refine fine diamonds, giving each Birkat Elyon cubic zirconia the brilliance of fine gems. In fact, Birkat Elyon's unrivaled quality standard produces cubic zirconia with a purity level of 99.9%. The splendor of Birkat Elyon stones makes it difficult for experienced gemologists to recognize them as CZ.
Though Valentine's Day is always a busy time of year for the Birkat Elyon design team, 2013 is proving to be one of their busiest yet. With orders pouring in, Birkat Elyon is hard at work ensuring that each gift arrives in time for Valentine's Day. From CZ tennis bracelets, to pendants and even engagement rings; cubic zirconia jewelry is once again a popular Valentine's Day gift this year.
"Valentine's Day is one of my favorite times of year," said Rebecca Daniel, Senior Designer and Sales Director at Birkat Elyon in New York. "It is at this time that we get to help many of our customers express their love for one another. In many cases we even have the privilege of helping them design custom pieces that reflect that love."
The Birkat Elyon cubic zirconia jewelry collection is comprised of a wide variety of pieces, at varying price points; making them the CZ manufacture of choice for consumers around the world. Offering classic and designer inspired pieces, adorned with the eye catching cubic zirconia and brilliant synthetic gemstones, it's no surprise that Birkat Elyon has the privilege to serve many of their clients year after year.
The sluggish economy, in recent years, has had a devastating effect on many industries. The cubic zirconia industry has however experienced growth. In the wake of the recent financial crisis, many consumers are looking for affordable alternatives to the luxuries they once enjoyed. Many fine jewelry lovers have since discovered that high quality CZ has the look of diamonds, at a fraction of the cost.
"Helping our customers find the perfect Valentine's Day gift, at a price they can comfortably afford, is truly a joy," added Daniel.
Offering a world class cubic zirconia jewelry collection, as well as custom design services, Birkat Elyon truly offer something for everyone. As Valentine's Day approaches, the jewelers at Birkat Elyon will continue to work diligently to help make February fourteenth a special day for their valued customers. Watch for more exciting announcement, in the coming months, as Birkat Elyon continues to set the standard of excellence in CZ manufacturing and design. To learn more about the Birkat Elyon CZ jewelry collection, visit them online at http://www.Birkatlyon.com or call 877.777.8352 to speak to one of their talented jewelers.
About Birkat Elyon:
Birkat Elyon is an online luxury cubic zirconia jewelry manufacturer, specializing in 14K gold, 18K gold and platinum designs. Birkat Elyon has more than 20 years of CZ jewelry expertise. Located on Park Avenue in New York City, Birkat Elyon offers free wedding jewelry consultations for the selection of readymade designs, as well as for custom-made jewelry.