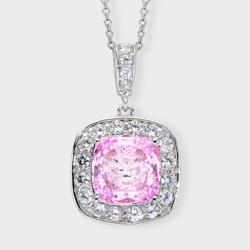 We are so pleased to be able to help our customers achieve the look of colored diamonds for less.
New York, NY (PRWEB) December 06, 2011
Birkat Elyon, celebrated cubic zirconia jewelry manufacturer, is helping jewelry lovers, the world over, achieve the look of colored diamonds at a fraction of the price. A recent increase in consumer interest in colored cubic zirconia jewelry has lead to a surge in sales for the thriving jewelry manufacturer.
Founded in 1986 Birkat Elyon has since established a reputation for producing and selling some of the finest cubic zirconia jewelry on the market today. Using only the highest quality Russian formula, Birkat Elyon cubic zirconia stones are second to none. Each one is hand cut and polished with the same precision used when refining diamonds, creating brilliant cz stones. In fact, Birkat Elyon's unrivaled attention to quality produces cubic zirconia with a purity level of 99.9%. The quality and luminosity of Birkat Elyon stones makes it close to impossible for gemologists to identify them as simulated diamonds.
As of recent, colored diamonds have become popular fashion statements among the rich and famous. These beautiful, rare and expensive stones have been spotted on celebrities and royalty, walking the red carpet. For the average consumer, looking to capture this look, diamonds are far too costly. For this reason, many have turned to the expert jewelry designers at Birkat Elyon. From earrings and pendants to necklaces and cocktail rings; Birkat Elyon offers a wide selection of high quality, affordable, colored cubic zirconia jewelry pieces.
In today's unpredictable economy, making wise financial decisions is top of mind for most consumers. Even those who could once afford to purchase in fine jewelry, adorned with rare gemstones, report apprehension about making such large investments. Fine cubic zirconia jewelry gives consumers, of all socioeconomic classes, the opportunity to purchase beautiful jewels at affordable prices.
"We are so pleased to be able to help our customers achieve the look of colored diamonds for less," said Rebecca Daniel, Senior Designer and Sales Director at Birkat Elyon in New York. "
Whether they're looking for a one-of-a-kind piece or a replica, our team of designers is here to make it happen."
From trendy, colorful cocktail rings to classic simulated pearl earrings, Birkate Elyon is helping customers worldwide achieve the look of fine jewelry. Offering a world class jewelry collection, in addition to custom pieces, the Birkat Elyon designers truly offer something for everyone. With the holiday season quickly approaching, the jewelers at Birkat Elyon are preparing for a surge of orders in colored cz pieces as well as traditional cubic zirconia pieces as well as traditional cubic zirconia jewelry.
Watch for more exciting announcements throughout the coming year as cz jewelry continues to grow in popularity. To learn more about Birkat Elyon colored cubic zirconia and other cz jewelry, visit them online at http://www.Birkatlyon.com or call 877.777.8352 to speak to one of their talented jewelers.
About Birkat Elyon:
Birkat Elyon is an online luxury cubic zirconia jewelry manufacturer, specializing in 14K gold, 18K gold and platinum designs. Birkat Elyon has more than 20 years of CZ jewelry expertise. Located on Park Avenue in New York City, Birkat Elyon offers free wedding jewelry consultations for the selection of readymade designs, as well as for custom-made jewelry.
###