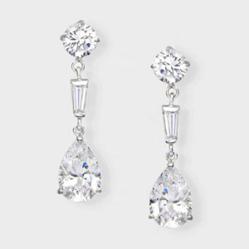 We are so excited to offer our cubic zirconia earrings, and other pieces, to jewelery and fashion lovers the world over.
New York, NY (PRWEB) November 01, 2011
Birkat Elyon, acclaimed cubic zirconia jewelry manufacturers, has recently experienced a growth in sales of their popular cubic zirconia earring collection. The surge in sales in undoubtedly a result of current fashion trends which translate into increased consumer interest.
Founded in 1986 Birkat Elyon has since become known as one of the foremost manufacturers of fine cubic zirconia jewelry in the world. Using only the highest quality Russian formula, Birkat Elyon cubic zirconia are truly the best on the market. Each stone is hand cut and hand polished with the precision used by master jewelers when refining diamonds. This unrivaled attention to quality gives Birkat Elyon cubic zirconia the brilliance of fine gems. In fact, each Birkat Elyon stones has a purity level of 99.9%. The quality and luminosity of these stones make it difficult for many gemologists to differentiate them from fine diamonds.
In recent years political turmoil and volatility in international markets have lead to an economic downturn on a global scale. Most consumers have experienced financial hardships in the wake of these events. As a result, people worldwide are looking for ways to maintain a comfortable lifestyle on a smaller budget. Such novelties as fine gems and diamonds are simply no longer affordable. Many consumers have since invested in cubic zirconia jewelry, due to the remarkable quality and incredible value of cz stones. From cocktail rings to earrings, these pieces have become popular among those of all socioeconomic backgrounds.
Today eye-catching earrings, adorned with fine gem and cubic zirconia alike, can be spotted on celebrities and fashion icons worldwide. This trend is proving popular this fall as classic fashions from days gone by are appearing on runways and magazine covers. In response the jewelers at Birkat Elyon are working to expand their cubic zirconia earring collection with even more pieces to meet every budget and style preference.
"The growing interest in cubic zirconia jewelry is helping us to reach new heights," said Rebecca Daniel, Senior Designer and Sales Director at Birkat Elyon in New York. "We are so excited to offer our cubic zirconia earrings, and other pieces, to jewelery and fashion lovers the world over."
The jewelers at Birkat Elyon are taking advantage of this opportunity, catering to the individual needs and styles of their growing customer base. Offering traditional as well as colored cubic zirconia, in a variety of cuts and settings, Birkat Elyon truly has something for everyone. Created to last a lifetime, Birkat Elyon offers designer styles and custom pieces that will continue to dazzle for years to come.
With the holiday season fast approaching, the jewelers a Birkat Elyon expect to see continued growth in sales. Watch for more exciting announcements throughout the holiday season, and into next year, as interest in cubic zirconia jewelry continues to spread. To learn more about Birkat Elyon earrings and cz jewelry, visit them online at http://www.Birkatlyon.com or call 877.777.8352 to speak to one of their talented jewelers.
About Birkat Elyon:
Birkat Elyon is an online luxury cubic zirconia jewelry manufacturer, specializing in 14K gold, 18K gold and platinum designs. Birkat Elyon has more than 20 years of CZ jewelry expertise. Located on Park Avenue in New York City, Birkat Elyon offers free wedding jewelry consultations for the selection of ready-made designs, as well as for custom-made jewelry.
###