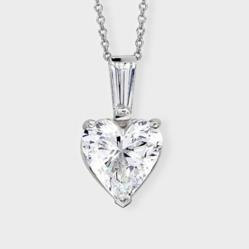 We are excited to help so many of our customers select and even design Valentine's Day gifts this year.
New York, NY (PRWEB) January 18, 2012
Birkat Elyon, renowned cubic zirconia jewelry manufacturer, is experiencing record sales growth as cz jewelry becomes a popular 2012 Valentine's Day gift.
After 25 years of service, Birkat Elyon is widely recognized as the premier manufacturer of the finest cubic zirconia jewelry on the market. Using only the highest quality Russian formula, Birkat Elyon cubic zirconia are beyond comparison. Each stone is hand polished and cut with the same precision used to refine fine diamonds, giving each Birkat Elyon cubic zirconia the splendor and sophistication of fine gems. In fact, Birkat Elyon's unrivaled attention to detail produces cubic zirconia with a purity level of 99.9%. The superiority and radiance of Birkat Elyon stones makes it close to impossible for gemologists to recognize them as simulated diamonds.
Sparkling cocktail rings and dazzling tennis bracelets have become popular fashion statements the world over. From celebrities to every day women, timeless beauty is all the rage. Classic looks from days gone by are popping up everywhere. As a result, elegant jewelry is once again a must have. In order to capture this look, at a reasonable price, many fashion lovers are setting their sights on fine cubic zirconia jewelry.
With Valentine's Day fast approaching, many people are looking to adorn their loved ones with beauty and opulence, while remaining within a budget. CZ jewelry is proving to fit the bill. The expert jewelry designers at Birkat Elyon are catering to a growing demand for cz jewelry as consumers complete their 2012 Valentine's Day shopping. From gold cubic zirconia rings to earrings and necklaces; Birkat Elyon has experienced a surge in sales in recent weeks.
"We are excited to help so many of our customers select and even design Valentine's Day gifts this year," said Rebecca Daniel, Senior Designer and Sales Director at Birkat Elyon in New York. "It is our goal to help each of our customers find that special piece of jewelry while remaining within their budget."
In recent years, many industries have reported dismal sales numbers as a result of a struggling economy and waning consumer confidence. The cubic zirconia industry however has experienced steady growth, growth which can be attributed to the relatively low cost of simulated diamonds. Even as the economy begins to rebound, consumer spending is remaining relatively conservative; motivating many to invest in cubic zirconia rather than diamonds.
Offering a world class jewelry collection, in addition to custom pieces, the Birkat Elyon designers truly offer something for everyone. As Valentine's Day 2012 nears, the jewelers at Birkat Elyon are hard at work fulfilling more orders than ever before. Stay tuned in the coming months as Birkat Elyon kicks off a year that is already proving to be one of the most successful in company history. To learn more about the Birkat Elyon cz jewelry collection, visit them online at http://www.Birkatelyon.com or call 877.777.8352 to speak to one of their talented jewelers.
About Birkat Elyon:
Birkat Elyon is an online luxury cubic zirconia jewelry manufacturer, specializing in 14K gold, 18K gold and platinum designs. Birkat Elyon has more than 20 years of CZ jewelry expertise. Located on Park Avenue in New York City, Birkat Elyon offers free wedding jewelry consultations for the selection of readymade designs, as well as for custom-made jewelry.
###