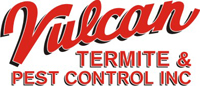 Birmingham, AL (PRWEB) February 08, 2013
Less than two-months away the annual invasion of summer insects will be landing in the yard, on the house, and on the pets. "When there is an average daytime temperature of 74-degrees in March, that's the perfect breeding climate for spring and summer bugs," explains Fred Smith, Manager of Vulcan Termite and Pest Control. "That's why we plan to spend four days at the Birmingham Home and Garden Show. We're on a mission: To let everyone in on the latest innovative products, new ideas, practical advice and great deals in keeping those bothersome critters at bay."
But that's not all Vulcan Termite and Pest Control has on tap. "We know that most kids love bugs," Smith notes. "That's why for the brave young'uns we're bringing along our creepy crawlies. Things like live tarantulas and a firsthand look at how termites can destroy anything in their paths."
Smith is saving the best for last. It's something that all the children will be talking about for weeks. "We're bringing along these gigantic Madagascar hissing cockroaches. These are the biggest roaches to ever roam the Earth. In captivity, these guys can live for up to 5 years. They feed primarily on vegetable material, so kids won't have to worry about being a snack for these enormous beasts."
To give a little more background, the Madagascar hissing cockroach is characterized by its hissing sound, large size and appearance. Their nickname, "hissing cockroach," is due to their ability to force gas through the breathing pores found on each segment of their thorax and abdomen. The Madagascar hissing cockroach is believed to be the only insect that can hiss that way. Other bugs make sounds by rubbing together various body parts.
Just so you don't miss out on the Birmingham Home and Garden Show, here are the vital stats. It all takes place at the Birmingham-Jefferson Convention Complex. The address is:
2100 Richard Arrington Jr. Blvd. North
Birmingham, AL 35203
Come check out Vulcan Termite and Pest Control at Booth 939. Our hours will be:
Thursday, February 14
11:00 am - 9:00 pm
Friday, February 15
10:00 am - 9:00 pm
Saturday, February 16
10:00 am - 9:00 pm
Sunday, February 17
11:00 am - 6:00 pm
"While termites and other American insects are our specialty, those hissing cockroaches are something to behold. Bring along your video camera. We guarantee that when you post it on You Tube, you'll get your share of hits!"
ABOUT VULCAN TERMITE AND PEST CONTROL
Vulcan Termite and Pest Control, Inc was established in 1965 and is one of the largest family owned and operated termite and pest control companies in Alabama. Our highly trained technicians provide professional and courteous termite and pest control services for both residential and commercial customers. Vulcan retains a Board Certified Entomologist who regularly updates our training and keeps us up-to-date with the latest termite and pest control strategies. We are members of the: National Pest Management Association / Alabama Pest Control Association / The Greater Association of Homebuilders / Birmingham Area Realtors / Associated Builders and Contractors, Inc. / North Shelby County Chamber of Commerce / Better Business Bureau. Vulcan Pest Control technicians are committed to providing our customers with the most effective services to help protect your home and health. Our technicians customize each service to handle your particular pest control needs. Vulcan Termite and Pest Control, Inc has teamed up with Local Surge Media to reach their customer in the online market.