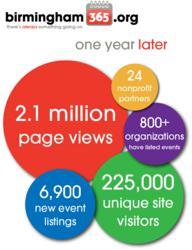 Birmingham365.org captures the essence of our regional vitality in one place and makes it instantly and easily accessible.
Birmingham, Ala. (PRWEB) May 08, 2012
Birmingham365.org has served as a watering hole for the Birmingham metro area for the past year, bringing together people of all interests, ages, and places to the events and attractions in the metro region. The website, which is included in the Blueprint Birmingham strategic plan, enhances the region's quality of life by serving as a social and civic hub for residents and tourists alike.
Barry Copeland, Birmingham Business Alliance's senior VP of operations and strategic initiatives, explained it this way: "Birmingham365.org captures the essence of our regional vitality in one place and makes it instantly and easily accessible. The BBA saw this as a natural fit with the Blueprint plan and we're pleased to have been a part of making that all-important first year so successful."
Birmingham365.org is built on software from Artsopolis, an initiative of Arts Council of Silicon Valley based in San Jose, Calif. Over the past 10 years, Artsopolis has emerged as one of the leading software platforms, helping communities to promote their civic, cultural and community events. The Artsopolis Network is comprised of roughly 40 member communities across the country, including Houston, Phoenix, Boston, Nashville, and Philadelphia.
"Artsopolis is thrilled to be the technology partner for Birmingham365.org," says Jeff Trabucco, Artsopolis director of network licensing. "We're impressed with Birmingham's inclusive model for all types of community events and are particularly interested in how the model serves municipalities, community groups, media and businesses."
"The Cultural Alliance's commitment and expertise has made Birmingham365.org one of the most successful Artsopolis collaborations to date," Trabucco continued.
Visitors to Birmingham365.org can find events in 17 event categories and 47 sub-categories. A clear indication that the site is meeting a key community need is the widespread adoption by site visitors, posting organizations and community partners.
Highlights from the first year:

More than 6,800 new event listings on the site
More than 2 million page views
Nearly 225,000 unique visitors
More than 800 organizations listed events
Entered into partnerships with area agencies, organizations and media:
o An extensive partnership with Birmingham magazine offering exclusive content for the magazine's online and print calendars and weekly e-newsletter, The BUZZ
o Powers the Greater Birmingham Convention and Visitors Bureau's online events calendar, as well as its quarterly publication distributed to eight welcome centers across the state
o Calendar provider for the Birmingham Public Library system and Birmingham Botanical Gardens — among others — to provide efficient, automatic sharing of event information
o Cooperative marketing agreements with 24 different organizations
"At the heart of any successful economic development effort is always a good communications program," Copeland went on to say. "Early on, BBA leadership recognized the communications value of a community website that could capture in one place all the civic potential of the community. Birmingham365.org does that."
For more information about Birmingham365.org, contact Bonner Wagnon, director of programs at the Cultural Alliance, at 205-458-1394 or bwagnon[at]cultural-alliance.com.
About Birmingham365.org
Launched in January 2011, Birmingham365.org is the free community events calendar presented by the Cultural Alliance of Greater Birmingham in partnership with the Birmingham Business Alliance, the Greater Birmingham Convention and Visitors Bureau, and the Community Foundation of Greater Birmingham. This comprehensive calendar provides details on everything that is going on in the Greater Birmingham area (60 mile radius). The calendar currently has more than 8,700 event listings that have been submitted by 924 active accounts representing 137 cities across 12 counties. No other calendar serving the metro region offers such a large and robust list of events.