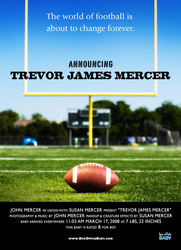 We really wanted to provide something that people had never seen before
Austin, TX (PRWEB) June 11, 2008
A new website offers party and birth announcements featuring high-end photography and illustration. Designs can be ordered as cards or full-blown, framed movie posters.
When Eric Doggett wanted to announce that his second son, Trevor, was on the way, he wanted to do it differently. As an Austin photographer and huge movie fan, he decided on creating a custom movie poster to send to his friends and family.
The poster was an incredible hit, and BoxOfficeBaby.com was born.
The website offers custom birth announcements and birthday party invitations with a unique twist: instead of the same old run-of-the-mill photo announcements, each of these designs are elaborate productions involving custom photo shoots and high-end computer illustration.
"We really wanted to provide something that people had never seen before," said Eric. "We've approached these designs with the level of detail that we put into our photography client work. People are looking for something different, and these announcements provide something that's as unique as their child."
One unique aspect of Box Office Baby's approach is that designs are theme-based. For example, if you are into sports, there are several football and baseball designs. Additional themes include music, dancing, space, Vegas, and more. The imagery and text are specific to each design, and are written in a fun, relaxed style. The Vegas category, for example, offers titles like "What Happened In Vegas Won't Be Staying In Vegas."
Designs can be printed on beautiful, woven-fiber 5x7 cards, but the crème de la crème of Box Office Baby's offerings is the full-on custom movie poster. Posters are available in 16x24 and 24x36 sizes, and can be framed as well.
"This is a newborn gift idea no one else has," said Eric. "A custom announcement that can be a card or a full-size, framed movie poster. It comes ready to hang in your home, and it's a unique gift children can keep it forever."
Customers visiting the site simply choose the design that represents their child and then change the text with all of their specific details. All of the posters are true photographic prints, using the same lab that Eric Doggett Studios uses for professional printing.
Ten percent of every order is donated to two charities, the Juvenile Diabetes Research Foundation and Now I Lay Me Down To Sleep.
In addition to announcements, Box Office Baby has a free school section that teaches people how to take better pictures of their families and friends, whether they are using a top-of-the-line DSLR or a pocket digital camera.
You can view all of the designs and see your baby in lights at http://www.boxofficebaby.com.
###