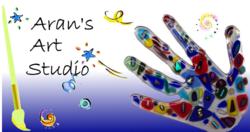 Late nights at Aran's Art Studio are the best kept secret in Castro Valley
Castro Valley (PRWEB) October 29, 2011
Castro Valley's Aran's Art Studio is a creative space which is the perfect place to host kid's birthday parties. They offer a unique alternative to the standard party venue with their fun and easy pottery painting facility. And now, they are offering something for adults with late night date nights.
"Late nights at Aran's Art Studio are the best kept secret in Castro Valley," said Aran Mimran, owner of Aran's Art Studio. "Late nights at Aran's Art Studio make the best date nights. Instead of going to a bar, bring your date or loved ones to Aran's Art Studio."
Customers can bring snacks and a bottle of wine or beverage of their choice to the facility on their date night. They can then enjoy a great, friendly and creative atmosphere.
Aran's Art Studio strives to bring out the inner artist in both the young and old throughout the local community. Their range of artistic resources provides each individual with the tools needed to fire up a piece that's sure to add a personal touch to any home décor.
Aran's Art Studio's offerings are more than just birthday parties and pottery painting in Castro Valley. On the second Friday and last Saturday of each month, they offer Aran's Late Night karaoke and artistic offerings. Bring friends and family to belt out their favorite tunes while the audience enjoys the soothing pastime of pottery painting. Aran's Art Studio's late night festivities run from 8 p.m. to midnight.
For more information on Aran's Art Studio's services, contact Aran Mimran at (510) 728-1333 or visit them online at http://www.aranceramic.com. They are located at 3313 Village Drive Castro Valley CA 94546.
About Aran's Art Studio
Aran's Art Studio is a Castro Valley arts and pottery painting facility, specializing in kid's birthday parties, summer camps, school fundraisers, late night adult karaoke and much more. Aran welcomes visitors from all over the San Francisco Bay Area. Centrally located in Castro Valley, they are just minutes away from San Lorenzo, San Leandro, Hayward, San Ramon, Dublin, Pleasanton, Fremont, Livermore and Oakland. They have a specialized glass fusing studio.
###