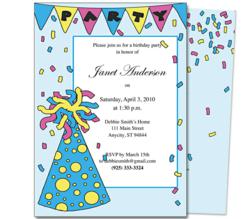 Our templates are easy to use and provide the customer with a professional end result product.
San Francisco, CA (PRWEB) January 02, 2013
Carole Galassi, CEO and founder of Celebrations of Life, announced that the firm has released new birthday templates at its online store. A premiere provider of project templates, the company has products that assist consumers in celebrating the special occasions of their lives. "Our templates are easy to use and provide the customer with a professional end result product," said Galassi.
The new birthday templates are compatible with Microsoft Word, Publisher, OpenOffice and Apple iWorks pages. Templates are available for children's parties, Bar Mitzvahs, general birthdays and a variety of adult milestone birthday celebrations. The firm's selection provides anyone with an efficient and cost effective means of obtaining professional-quality templates that are fun to send and an honor to receive.
Visitors can easily purchase and download the desired template for printing at home, print on demand projects, or printing at their local office supply store or print shop. Individuals can also choose to have projects completed with the professional printing services offered at Celebrations of Life.
Colorful backgrounds, photo invitations, and imaginative child-oriented themes featuring cowboys and pirates, along with whimsical fairies and princesses, are offered that appeal to younger celebrants. For the adult birthday, customers can choose from chic and classy templates with fashionable flair. It doesn't matter whether the festivities will take place at a BBQ on the beach or the trendiest locale, Celebrations of Life has templates to address every need.
The firm offers templates in over 20 categories, ranging from professional business packages to elegant templates appropriate for the most solemn of occasions. Templates can be acquired featuring the work of Thomas Kincade and the popular plantable seed collection. Visitors to the site will also find custom candle templates for gifting, along with calendars and stylish party favors.
Fans can follow the firm on Facebook at https://www.facebook.com/CelebrationsOfLifeStore, on Twitter at https://twitter.com/funeralprograms, on Pinterest at http://pinterest.com/carolegalassi/birthday-party-invitations-templates/ and on Google Plus at https://plus.google.com/117756877911566362131/posts. The site maintains an informative blog and article archive to address an extensive array of occasion-related topics.
The release of the new birthday templates at the Celebrations of Life Store provides clients around the world with fun and fashionable templates for cards, invitations and favors to accommodate any type of birthday celebration. A leader in the creation of templates ranging from classy to flights of fancy, the firm is dedicated to providing consumers with cost effective solutions for all celebratory and printing needs.
Celebrations of Life can be reached toll-free by phone at 1-800-773-9026. For more information, visit the website at http://www.celebrationsoflifestore.com.