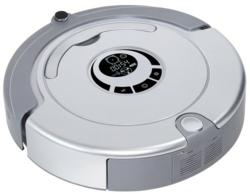 Robot Vacuum Cleaner - Great Birthday Gift For An Untidy Man!
(PRWEB UK) 30 April 2013
Summer is just around the corner and Paramount Zone ltd have just released the latest round up of top Birthday Presents For Men.
Paramountzone.com has been a much loved name on the web for over a decade, and have a vast range of fun gifts for men. With warmer weather on the way the company have focused on outdoor gadgets, and top of the pile is the latest remote control quadcopter called the "Turbo Drone." It has been featured on the Gadget Show and has an RRP of £90, although the rc quadcopter can currently be purchased on Amazon for just £50 plus postage.
"We know what customers are looking for when looking for the latest flying gadgets. Having sold such toys for over a decade the change in technology has been huge over this time period, and what customers can now get for between £15 and £50 would have cost them over £300 ten years ago. But customers are still looking for value and a high level of performance," said James Morris, the Managing Director of Paramount Zone Ltd.
In addition to flying toys, the company also has other gadgets that are set to be hot sellers over the summer months, and make perfect Birthday presents for men.
The Solar Boost Phone Charger enables any Smart Phone owner to charge it up using just the suns rays and is a wonderful backup power gadget to carry around in case of emergencies. Such a solar phone charger gadget is also becoming more popular for people to take on holiday as it avoids the need to take travel adapters, as no socket is required.
The company have been selling a Popcorn Maker Machine over recent months and it is proving to be a best seller with countless 5 star reviews on Amazon. This Popcorn Maker gadget makes a great gift idea for anyone who has a passion for home cinema.
The best selling robot vacuum cleaner (XR Advanced) has just had an upgrade and is a wonderful gift for anyone who never has time to do the housework. This superb robot vacuum cleaner men's gift is available on the website and also at Amazon.
To find out more about all mentioned products, simply visit the website at Paramountzone.com
About The Company
Since opening its website in 2001, Paramount Zone has gone on to become one of the most respected place to buy fun gadgets and gifts for men, with a reputation for quality and affordability.
For more information please contact the company via the form on their website, or call 0844 873 3220 and select option 5 for head office.