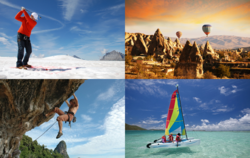 "A one-stop shop for expanding your horizons, upgrading your aspirations and stretching your senses," BBC's Simon Calder
(PRWEB UK) 28 September 2012
AdventureTemples made the leap from online community to travel provider just one short year ago, but its foundation in expertise, honest impartial advice and friendly support has served it well. Described by the BBC's Simon Calder as, "A one-stop shop for expanding your horizons, upgrading your aspirations and stretching your senses"; its whole ethos is about trying to help make adventure accessible, without compromising on Luxury.
First came its guidebook 'The 50 Best Luxury Adventure Holidays in the World' – a beautifully illustrated compilation of the forum members' very favourite trips. These trips were then made available as tour packages, ready to be custom tailored for customers, by their travel agent gurus. Fully bespoke and community inspired trip options soon followed, but the emphasis remained on finding great locations with "something for body, mind and spirit, all from a luxury base".
As the litany of national papers and magazines on its press page testify, AdventureTemples really captured the imagination of the travel community. Its first domestic product, the Adventure Butler Service, launched in Cornwall in June, has taken this on even further. Now available from over 1000 luxury cottages, country houses and boutique hotels in the South West, the butlers create bespoke activity and experience programmes from a menu of over 90 options.
The feedback has been fantastic, and the glowing customer comments on the website show why so may people are joining the company's list of happy 'Luxplorers'. This success has manifested in a recent tie up with famous family owned travel provider, Barrhead Travel. Barrhead will be offering AdventureTemples luxury adventure holidays to their customers and ensuring the trips are provided at the best possible rates – after all, the luxury market loves a good value deal these days too.
Rumours abound that the company is set to make its first foray in in-house adventure facilities in 2013, starting near its base in Padstow, Cornwall. CEO, Rob Pendleton, revels in the mystery: "Cornwall is great but having grown up here I have spotted something 'missing' that will serve locals and visitors alike. We are working with VisitCornwall, the Local Enterprise Partnership, and local businesses, to create an activity facility that the county needs to complement its amazing natural environment. I can't tell you what it is yet, but check our community and social media channels like Twitter & Facebook to get subtle clues and the first official announcements when the deal is done."