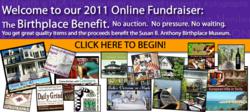 There's no pressure to buy... and the buyer knows that their purchase will directly support the museum and its educational programs.
Adams, MA (PRWEB) May 03, 2011
The Susan B. Anthony Birthplace Museum announced today the launch of its first online Birthplace Benefit Sale. Visitors to the Birthplace Benefit Sale web page will find unique and everyday items, including personal and professional services, restaurant certificates, sports memorabilia, and vacation property rentals. All items have been donated and all proceeds will support the newly opened birthplace of the world-famous human rights leader, Susan B. Anthony. The sale will run through Columbus Day, October 10, 2011.
According to organizer and museum board member Colleen Spellecy, "We've made the sale as straightforward and easy as possible. Each listing contains a description and a monetary value of that item. The value listed is what a person pays. There's no pressure to buy, like in an auction, and the buyer knows that their purchase will directly support the museum and its educational programs."
Rochester, NY, resident Carol Crossed purchased the Federal-style frame house at the foot of Mount Greylock at auction in 2006 with the intention of restoring it as a museum. The house was a private residence for its entire life and had undergone many changes. "The restoration was a long time coming. The town of Adams always wanted to make this a national landmark, which it deserves to be," says Crossed. With the restoration complete, the Birthplace Museum opened in February 2010, and is now on the National Registry of Historic Places.
Susan B. Anthony was born in Adams, Massachusetts, on February 15, 1820 and spent the first six years of her life there. Built in 1818, her birthplace stands as an important symbol of the women's suffrage movement in the United States. Today the Museum highlights the familial and regional influences that shaped Anthony's early life, by displaying the textiles and furnishings of that period, as well as ephemera and memorabilia from her later career.
To learn more, please visit http://www.susanbanthonybirthplace.com/birthplacebenefit.shtml.
###