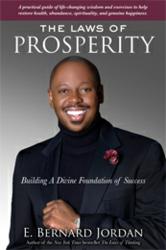 New York, NY (PRWEB) July 29, 2011
Books offering strategies for financial success and personal wealth accumulation are hardly new, but in this age of economic uncertainty they seem to be more plentiful than ever. In the minds of many consumers, however, these books are essentially a dime a dozen, offering fly-by-night financial tactics that are largely based on recent trends, and offer no guarantee of lasting efficacy. Bishop Jordan's books are another matter entirely, however; based on time-tested principles and ancient truths, Bishop Jordan's books offer financial advice based in spiritual realities. His latest work, The Laws of Prosperity, releases on September 6, via Atria Books.
The new book is a sequel, of sorts, to Bishop Jordan's previous bestseller, The Laws of Thinking. That well-reviewed work expounded upon Bishop Jordan's beliefs about the power of positive thinking. The new one paints an even bigger picture, focusing on what the author calls the "divine ordinances of prosperity." Says Bishop Jordan, "Prosperity is not in short supply. People just don't know how to access it. This book is all about showing others how they can tap into the abundance and material as well as spiritual satisfaction that God wants for all of his people."
Bishop Jordan is quick to point out the differences between his book and others on the market right now, noting that The Laws of Prosperity is not mere financial advice. "The concept of 'laws' is important," he notes. "These are not guidelines, but factual truths about the way our world was designed and the way it works even today. If you follow these laws, there's no chance you won't prosper, because ultimately these are God's laws, not my own." Indeed, the book is part motivational guide, part spiritual direction, and yes, part financial wisdom.
For all of this, Bishop Jordan makes clear that the book is not abstract or esoteric, but deals with real-world issues. The book goes into detail about twenty laws, and provides practical guidance on each issue. Topics range from investment to employment, and each chapter touches on matters of faith.
Bishop Jordan is certainly well-qualified to talk about matters related to prosperity, having attained quite a bit of it for himself. Over a thirty-year career he has written some sixty books, many of them bestsellers, and has amassed a loyal web following. Bishop Jordan has his own national TV program, which airs on BET, and is a regular guest on the Rev. Al Sharpton's radio show.
The Laws of Prosperity is not the first Bishop Jordan work to broach these topics, but each of his books comes at the issue from a different angle. The Art of War employed the metaphors of the military, while Cosmic Economics takes a more philosophical approach. Regarding the new book, Bishop Jordan says simple, "It is one of the most practically-focused and accessible ones yet, and I'm excited to see how it ministers to people."
ABOUT:
Bishop Jordan has been a teacher, preacher, motivational speaker, financial guru, and bestselling author for more than three decades now. Among his books he counts such New York Times bestsellers as The Laws of Thinking, The Art of War, and Cosmic Economics. He has his own show on the BET network, is a frequent guest on Al Sharpton's radio hour, and offers a variety of online educational resources at his website.
For more information about Bishop Jordan, see http://www.bishopjordan.com
###