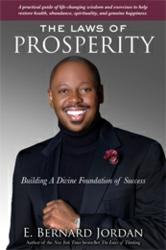 New York, New York (PRWEB) October 21, 2011
Penning a best-selling book is a feat to which many authors aspire yet only a small percentage achieve. Following up a best-selling book with a five star publication is an even greater challenge, and Bishop Jordan has achieved this with ease. His latest book, The Laws of Prosperity, has received multiple five star ratings and reviews on the websites of bookselling giants Amazon and Barnes and Noble.
While many of Bishop Jordan's readers may have their own, individual reasons for loving his books, the key aspect of his writing that seems to strike a major chord with the public is the accessibility and practical knowledge that Bishop Jordan provides.
According to a review posted by Kaneen L. Morgan on Amazon.com, "This book brings wisdom and helps to understand why some are prospering and others are not. It teaches you how to prosper, master systems, and bring order to your life [...] Without order the foundation is incomplete and you cannot build a life of success."
But the appeal of Bishop Jordan's book does not lie solely in its ability to convey practical information; many people view Bishop Jordan as a spiritual authority and, as such, trust that his writing communicates the word of God.
Holly Dillon, another reviewer, also posted her thoughts on Amazon.com: "What a joy to read the true words from God, sent to prepare those who walk in the word of God to the next level of our divine order of our footsteps, written by one [of] God's own spiritually connected Apostle[s]."
Whether readers are looking for sensible advice or spiritual guidance, they may benefit from reading the words of Bishop Jordan and exploring his ideas about prosperity. For a list of books by Bishop Jordan available on Amazon.com, including his latest release, The Laws of Prosperity, visit
http://www.amazon.com/s/ref=ntt_athr_dp_sr_1?_encoding=UTF8&sort=relevancerank&search-alias=books&field-author=Bishop%20E.%20Bernard%20Jordan.
ABOUT:
A Master Prophet who has imparted spiritual guidance for over 30 years, Bishop Jordan is an accomplished author who has penned many publications. Through the written word, he hopes to help his friends, family, and numerous followers achieve a higher level of spiritual wellbeing. In doing so, they will be able to become more successful in everyday life, something that will enrich their experience and understanding of their purpose.
Bishop Jordan created Zoe Ministries in 1983, which he has expanded into an international organization that has played a key part in sharing the word of God around the globe. This objective is further helped by his books, which are available on Amazon.com and BarnesandNoble.com.
More information about Bishop Jordan and his work with Zoe Ministries can be found online at http://www.bishopjordan.com.
###