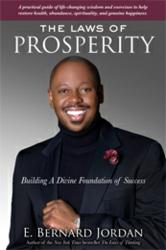 New York, New York (PRWEB) November 23, 2011
A political activist group called Americans for Prosperity has been running campaign ads throughout different U.S. cities and states, implicitly signaling a renewed interest in the topic of "prosperity" within the country as a whole. Indeed, in this age of Wall Street protests and heated discussions over the true nature of wealth, more and more Americans are reconsidering what it truly means to prosper, and how to accumulate riches. In light of this, it should come as no surprise that the teachings of Bishop Jordan are in greater demand than ever before. Bishop Jordan is he best-selling author and spiritual leader whose teachings on the topic of material prosperity have made him a favorite financial role model to many, and, in recent weeks, his books have garnered more and more five-star reviews.
Bishop Jordan's most recent work, The Laws of Prosperity, was released in September of this year, and deals with the spiritual truths that illuminate earthly wealth. The book is a hit among Bishop Jordan's devoted fans. One reader posted a recent review to Amazon.com that heralded Bishop Jordan's clarity in this tumultuous age: "This book brings wisdom and helps to understand why some are prospering and others are not. It teaches you how to prosper, master systems, and bring order to your life… [in] business, career, family, and personal matters. Without order the foundation is incomplete and you cannot build a life of success."
Bishop Jordan's teachings center on the timeless spiritual principles that yield material wealth, and his advice on how to generate personal wealth is a spiritually resonant tonic to the more mundane political approach taken elsewhere.
Despite being on bookshelves for almost three months now, Bishop Jordan's The Laws of Prosperity continues to draw rave reviews on a regular, consistent basis. Another Amazon.com reader enthuses that the book can gain the reader admittance into a "whole new realm of blessing." Similarly effusive praise can be found at BarnesandNoble.com, where the work has a nearly perfect score in the reader reviews column.
Bishop Jordan's work continues to inspire new thinking about the nature of prosperity even during fragmented political and socioeconomic times. Further information about The Laws of Prosperity can be obtained at: http://www.barnesandnoble.com/w/laws-of-prosperity-e-bernard-jordan/1100399999.
ABOUT:
Bishop Jordan is an accomplished author who has penned many publications. Through the written word, he hopes to help his friends, family, and numerous followers achieve a higher level of spiritual wellbeing. In doing so, they will be able to become more successful in everyday life, something that will enrich their experience and understanding of their purpose.
More information about Bishop Jordan and his work with Zoe Ministries can be found online at http://www.bishopjordan.com.
###