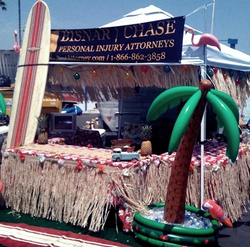 We're excited to be part of such a fun event again this year
Newport Beach, CA (Vocus) July 1, 2010
The Newport Beach Personal Injury Lawyers of BISNAR | CHASE (BestAttorney.com) are gearing up to sponsor the Rendezvous SURF-FEST scheduled for July 17, 2010 at the Sons of the American Legion, Squadron 291, in Newport Beach, California. The event, co-hosted by American Legion Post 291 S.A.L. and KOCI radio, is designed to raise funds to support U.S. troops, with 100 percent of the proceeds going directly to troops and their family members who need it most.
In addition to this year's sponsorship, BISNAR | CHASE will compete in the event's chili cook-off, coming off its third place finish last year. The firm says it will also raffle off an exciting grand prize to one lucky winner in attendance.
The American Legion Squadron 291 in Newport Beach is a non-profit organization with a long history of raising money and distributing funds to military charities, including the Child Welfare Foundation which helps children of veterans find homes, jobs, food and clothing, and the Veterans Administration Group located in Long Beach, California. What's more, the organization distributes funds to groups within the Marine Corps Base of Camp Pendleton in Oceanside, California, with approximately 50 marines from the base's recon unit expected to attend this year's SURF-FEST event.
Popular surf bands The Jan & Dean Show, The Surftones, The Fabulous Nomads, The Surfaris and The Chanteys are set to entertain, with additional bands scheduled to perform on the outside stage. What's more, guests will enjoy a classic surf car show, raffles and prizes, and the tastes of Newport's favorite restaurants hosting chili and BBQ booths.
"We're excited to be part of such a fun event again this year," said John Bisnar, founder of BISNAR | CHASE Personal Injury Attorneys. "The Rendezvous SURF-FEST epitomizes what it means to be a Californian by celebrating the iconic sport of surfing with great music, cool cars and delicious food. Not only are we pleased to support such a worthy cause, we're looking forward to pulling out all the stops with our prize-winning, secret recipe chili."
Headlining bands for this year's event will perform in the main ballroom, which will also play host to classic surf films such as Endless Summer and Five Summer Stories, with the entire event set to be simulcast by KOCI via the Internet and on the Armed Forces Radio Network.
The American Legion Rendezvous SURF-FEST will be held at 215 15th Street, Newport Beach, CA 92664, from 12:00 PM to 10:00 PM. Advance tickets are $20 and online ticket purchases are $22. For more information about this year's event, to make a donation or to become a sponsor, or to enter the chili cook-off or the classic surf car show, visit the SURF-FEST10 website or phone (949) 279-7575.
About BISNAR | CHASE
Since 1978, top-rated BISNAR | CHASE Personal Injury Attorneys have won hundreds of millions of dollars for over 6,000 clients who have been very seriously injured or lost a family member due to an accident, defective product or negligence throughout California. The law firm has won a wide variety of challenging personal injury and defective product cases against some of the largest insurance companies, corporations and governmental agencies. For more information, be sure to visit http://www.BestAttorney.com to get your free copy of The Seven Fatal Mistakes That Can Wreck Your California Personal Injury Claim while supplies last.
###