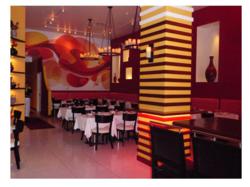 There is no love sincerer than the love of food. - George Bernard Shaw
New York City, NY (PRWEB) July 19, 2011
Located at 344 3rd avenue, Bistro Lamazou's offers a dining experience that excites the senses: an elegant, vivacious and vibrant ambiance, gracious service and a savory and exquisite menu. The Southern European and North African cuisine is inspired by the rhythm of the seasons, the spices of Morocco and Tunisia with some interesting cheese twists.
Complementing the menu is the creation of one of NY's first cheese bars which host a wide array of extraordinary cheeses that come for the cave of Lamazou Cheese, located a half a block away from the Bistro. Aziz and Nancy Lamazou are well known for their affinage experience –the art of aging cheese. Lamazou Cheese gathered a loyal following among foodies in New York City and nationwide for consistently winning praise for its high-quality products. . Bistro Lamazou offers a popular wine and cheese pairing event every Monday and Wednesday from 6 to 7pm.
The full bar and lounge make for a great stop for a glass of wine from the extensive wine menu or one of their genuine craft beers, and some real heavenly cocktails. A happy hour is offered daily from 4 to 8pm
Bistro Lamazou is characterized by the hospitality of its owners their willingness to go above and beyond to make your dining experience one of a kind. Available for private events, this restaurant is the perfect place to host any celebration with a capacity of 120. If Lamazou cheese shop has demonstrated anything about the potential following, Bistro Lamazou is sure to become home to locals and tourists alike.
Quick facts
Opening Date: April 21, 2011
Location: 344 Third Avenue, New York City, NY 10010 (Between 25th and 26th Streets)
Phone: 212-481-8550, e-mail: bistrolamazou(at)yahoo(dot)com, Website: http://www.Bistrolamazou.com
Business Hours: Monday – Thursday: 11:00AM – Midnight; Friday and Saturday 11:00AM – 1:00AM; Sunday 11:00AM -11:00PM
Price range: Appetizers: $12 Entrées: $18-$32 Desserts: $9
Type of food: Southern European/North African (French, Italian, Spanish, Tunisian, Moroccan)
Number of seats: 100
Find us on Facebook, and follow us on Twitter
PR Contact: Nancy Lamazou, 212-481-8550, bistrolamazou(at)yahoo(dot)com
###