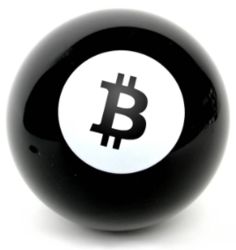 And I think here, for us at PayPal, it's just a question of whether Bitcoin will make its way to PayPal's funding instrument or not, and we're kind of thinking about it right now.
San Francisco, CA (PRWEB) May 16, 2013
Bitcoin is state-of-the-art currency and PayPal is impressed with the new form of electronic money. Bitcoin has become "the gold standard" of digital currency and is changing the way people are trading money and using currency online. David Marcus is the president of EBay Inc.'s PayPal unit. He recently discussed the prospects for the virtual currency bitcoin. In the online video interview, he speaks with Guy Johnson for Bloomberg Television's "The Pulse".
PayPal currently doesn't have a relationship with the virtual currency bitcoin. However, according to the recent Bloomberg report, that may soon change. David Marcus appears interested in the virtual currency and in the interview made it clear that PayPal is considering the potential of trading and accepting the digital currency. David Marcus stated, "And I think here, for us at PayPal, it's just a question of whether bitcoin will make its way to PayPal's funding instrument or not, and we're kind of thinking about it right now."
Bitcoin is the world's first completely decentralized currency and the popular favorite in a new virtual currency revolution. Bitcoin has no issuing entity and therefore no single point of failure. Bitcoin is in many ways more secure than a bank and is as simple as sending an email. Bitcoin offers a level of financial privacy. Bitcoin payments are irreversible and there is no such thing as a chargeback.
PayPal is a principal leader in internet currency transaction processing. Bitcoin may end up being the first accepted digital alternative to money as we currently know it, and PayPal will need to stay in the loop in order to remain competitive.
Unique bitcoin addresses are the only way to track where bitcoins are sent to and from. The bitcoin transaction history is referred to as a block chain. Bitcoin addresses are generated as needed by the client or an online wallet. Large batches of bitcoin addresses can be pre-generated and used for e-commerce and bitcoins are a commercially viable option for use in online stores. Many are already stepping aboard and accepting the growing alternative currency.
PayPal's role in bitcoin awareness and use cannot be understated. Bitcoin's user base stands to grow enormously while the new internet currency could become integral to online auctions and retail in general.
The founder of Spend Bitcoins, Jeremy West, said PayPal's relationship with bitcoin has not always been positive, and attributes the freezing his PayPal account simply to it having been linked to bitcoins. Mr West said, "We had problems with PayPal in the early days of Spend Bitcoins and we weren't the only ones. That just made us more determined to make sure bitcoins were easily available to people in Australia where it has been harder to buy bitcoins."
Spend Bitcoins is one of several online companies committed to educating the public and making it quick and easy to buy and spend bitcoins. The Australian bitcoin Company is committed to demystifying the new form of currency by providing answers to the many questions arising regarding the new virtual currency.