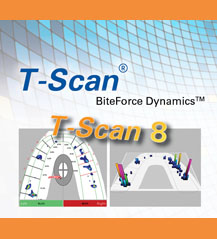 Boston, MA (PRWEB) November 27, 2012
The T-Scan is a diagnostic device that records a patient's bite force, enabling a dentist to determine a patient's BiteForce Dynamics™, which includes occlusal force, timing and location.
The T-Scan is built with patented sensor technology, developed between MIT and Tufts University, and puts articulating marks into context by showing the dentist where and how occlusal forces occur in a patient's bite.
Dentists all over the world are using the T-Scan to protect their cosmetic cases from harmful forces, ensuring proper implant loading and preventing remakes and fractures, minimizing emergency visits, and saving valuable chair time.
The data recorded by the T-Scan puts the dentist in control of the treatment sequence by providing the percentage of force distribution for a patient's bite. There is no need to rely on "How does that feel?" to qualify treatment.
For more information on how T-Scan can help improve your clinical results, visit http://www.tekscan.com/dental or contact Tekscan at marketing(at)tekscan(dot)com.