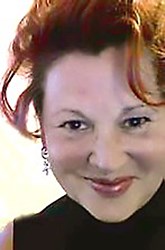 This is about doing what you love and sharing it by eliminating the fear of selling for artists. Participants will learn three ways to monetize their art in 30 to 45 days.
Florence, Italy and Sarasota, FL, USA (PRWEB) September 25, 2013
BiteMyArt, the online nexus connecting artists and exhibit spaces, today opened registration for the 8-week 'How to Succeed as an Indie Artist' online coaching workshop led by renowned creative coach Sian Lindemann.
"In 'How to Succeed as an Indie Artist' participants are taught the tools to theme, market, exhibit and sell their art," said Sian Lindemann. "This is about doing what you love and sharing it by eliminating the fear of selling. Participants will have a vision statement developed for them and will learn three ways to monetize their art in 30 to 45 days."
Participants that submit the $300 course deposit now will get access to Sian's BONUS 2-hour mentoring session that will get them on the path to clarifying their vision, conceptualizing their theme and advancing their career as an artist. While Sian regularly charges $5000 for online artist coaching the total 8-week course fee is only $897.00.
Sian is an accomplished artist and visionary with over 30 years of experience in arts promotion, marketing, and career development for artists. As well as being an accomplished artist in her own right, Sian is responsible for contributing to the success of hundreds of artists during her career, providing practical marketing and financial expertise to artists seeking to pursue their passion while building their ability to generate consistent revenues.
Her ability to coach artists to promote, produce and launch successful showings of their work is unparalleled and as a master mentor of the creative spirit, Sian will work interactively with artists over the course of eight weeks to inspire the creation of new ideas and works while simultaneously encouraging growth, depth, and scope in the artists she coaches.
Enrollment in 'How to Succeed as an Indie Artist' is limited to ten students so everyone receives personal attention.
Course participants will learn that clarity is everything and will be assisted in discovering "who" they are, communicating "what" they do, and "why" they do it. Artists will learn to define their authentic voice, identify their preferred business model, learn to speak about their mission and work with professionalism and fluency - all resulting in attracting the right clients to their art.
The course will meet for 90 minutes every week for eight weeks via an online and interactive GoToMeeting session. The GoToMeeting platform provides an easy-to-use and stable online classroom environment and excellent technical support.
According to BiteMyArt founder Sascha Connelly, "Sian's motto is 'Create a life that is legendary.' We are so pleased to partner with her to offer our artists access to this opportunity to pursue their passion while making more than just a living from it – the opportunity to be really successful and for the world to see their art."
Interactive coaching and associated coursework includes:
● The Six Things You Must Know ~ Questionnaire and Homework
● The Six Things You Must Know ~ Analysis and breakdown of student's "compelling" why
● Conducting a New Client Interview
● Being interviewed and a Vision Statement will be developed for you
● Design Your Elevator Pitch ~ I am statements
● Identify Your Circle of Influence ~ Who do you know and who do you need to know? Who needs to know you?
● Three Ways to Create Immediate Revenue ~ From your circle of influence
● Social Media ~ Facebook, Twitter and Blogging ~ The implementation of "personal marketing", not anonymous mega list building
● How to Syndicate and Cross Promote ~ How to make yourself famous!
● The Art of the Sale ~ FAB sales: Fact, Advantage and Benefit
● Follow UP ~ Building authentic, long-lasting relationships
To learn more and register for 'How to Succeed as an Indie Artist' eight week seminar, please go to the following link: http://bitemyart.com/bma-sales.html.
BiteMyArt is an online nexus for artists to connect with galleries and unconventional exhibition spaces and for gallery owners to interact with artists. Artists are able to upload up to three free portfolios on http://www.BiteMyArt.com and access the interactive tools with which to present their work to gallery spaces. Artist resources also include advice on creating a compelling artist statement, applying for grants, developing patronage and more.
Gallery spaces can search artist profiles on BiteMyArt by type, location and other parameters to assure themselves access to artists that fit their exhibit profile. BiteMyArt provides an easy-to-navigate interface that also allows gallery spaces to promote themselves and upcoming events, build relationships with the most promising artists as well as enhance client communication and development.
BiteMyArt offers basic memberships to artists and gallery spaces at no cost. Artists can have up to three portfolios with the complementary membership and are able to market to certain gallery spaces worldwide. The limited launch quarter of a premium membership is available at $5.97 US per month and allows artists to create unlimited portfolios, apply to any gallery space all over the world and receive the premium member newsletter with details on upcoming grants and competitions.
About BiteMyArt, LLC
Formed in Sarasota, Florida, USA, and launched from Florence, Italy, BiteMyArt is the first web resource connecting artists and gallery spaces to mutual benefit. Founder Sascha Connelly (the granddaughter of Roy Scheider (hence the Bite in BiteMyArt)) worked with a global team of web and software developers to create BiteMyArt. Sascha is a graduate of the Sarasota Booker VPA program and has been developing BiteMyArt since 2010 while studying studio arts in Florence. For more information, please go to http://www.BiteMyArt.com.