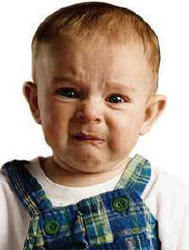 "Bitrex tastes dreadful and it reduces the likelihood of ingestion of products, especially by children and pets"
Salt Lake City, UT (PRWEB) February 24, 2010
Market Actives, LLC announced they will be exhibiting Bitrex®, the bitterest stuff on earth, at the Zero Fatalities Safe Kids Fair 2010. The exhibit will feature "The Bitterest Face on Earth" photo event will help teach families to prevent accidental poisonings, providing a fun way to talk about a serious and sometimes scary topic. Those that dare can even taste Bitrex! (Note: Bitrex taste test kits are available for qualified individuals and manufacturers.)
Bitrex is utilized by companies as a bitter safety additive, or bittering agent, to help reduce ingestion of potentially harmful products. Using Bitrex and promoting the safe use of household, automotive and garden products is advocated by safety, medical and animal organizations worldwide.
The Zero Fatalities Safe Kids Fair will be held in the South Towne Exposition Center on Friday 2/26 and Saturday 2/27 from 10 am to 6 pm. Admission is free and all are welcome. Last year over 25,000 people visited to learn about child safety. Come by Booth #521 to learn more about Bitrex and Poisoning Prevention.
"Bitrex tastes dreadful and it reduces the likelihood of ingestion of products, especially by children and pets" says Spencer Velott, VP at Market Actives, the U.S. distributor of Bitrex. "Bitrex is a part of an overall approach to poisoning prevention and safety that includes education, labeling, proper use and safe storage."
Bitrex, the most widely used bittering agent in the world, has been listed in the Guinness Book of World Record as the "bitterest substance known to man." An extremely small amount of Bitrex makes most products unpalatable. Bitrex enhances the safety of a household chemical product by providing a flavor so foul that young children reject it after an initial taste.
"Extreme bitter taste is an excellent barrier to product ingestion," said Dr. Christina Gong, a veterinarian in Portland, Oregon, "but should be used with safety education, the most powerful deterrent to accidental poisonings."
The seven states have passed legislation mandating the use of bittering agents in certain chemical products. Federal and other state legislators are currently considering similar proposed requirements. The use of bittering agents is supported by the American Medial Association, the National Safety Council and Poison Control Centers in the US and abroad.
Bitrex is made by Macfarlan Smith, Ltd., a 200 year old pharmaceutical company based in Edinburgh Scotland.
###