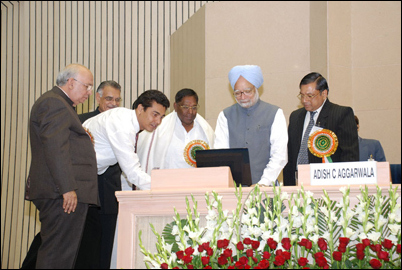 everyone has a right to know law of the land free of cost and with this we started this initiative.
Ahmedabad, India (PRWEB) December 5, 2006
Prime Minister Dr. Manmohan Singh launched country's first free legal information portal http://www.indlii.org on the eve of Law Day in New Delhi, India.
The portal provides information about central and state laws, judgments of various courts in the country besides news of the legal world. The portal is virtual extension of India Legal Information Institute with the technical support of Ahmedabad based technology consulting company Bitscape Solutions.
The idea behind the free portal is the mission of the Institute to provide free legal information to all. In the words of General Secretary of the Institute Mr. Talwant Singh, "everyone has a right to know law of the land free of cost and with this we started this initiative." The institute has a vast resource of highly qualified law experts who are dedicated to the cause of free flow of legal information.
He said that the portal would play a great role in achieving this goal since anyone can get information from anywhere anytime. He said that the portal a complex platform of information about different aspects of law and judiciary has become a reality with the technical support of the bitscape. It required lot of ground work on the part of the IT Company and it was not an easy task with lot of references and cross references.
Though development of portals is one of our jobs, the free legal portal of the Institute has been a great experience for us and it is an important project that the company has added to its list of global projects, says Mr. Kartik Shah Business Development Director of Bitscape. We are expanding at our Ahmedabad based offshore development house and soon we will have more than 500 new vacancies for local IT market in Gujarat, India, this is with a vision to achieve strategic relation with silicon valley, California based IntelliSwift, he added. The fact the Prime Minister of India launched the project on the eve of Law Day shows the importance of the concept and the place the institute in the legal world of the country, he says.
The Prime Minister launched the portal at a glittering function held at Vigyan Bhavan, New Delhi India. Among other dignities that were present at the launch ceremony are H.R. Bhardwaj, Hon'ble Law Minister, Home Minister Shivraj Patil, Mr. V Narayansamy, Mr. Adish C. Agarwala, Chairman indlii, and a vast fraternity of law and judiciary system of India.
About Indlii (India legal information institute)
Indlii is a Delhi based not for profit institute with a vision to make online and full public access to all publicly available legal information of India. The institute is committed to Collect legal information about India for all available sources and create awareness about the availability of free legal resources. To know more about the institute and how you can contribute to it email to info AT indlii.org or visit http://www.indlii.org
About Bitscape Solutions®
Bitscape Solutions® is an Ahmedabad; India based technology consulting company providing solutions in the field of information technology. Bitscape is a Microsoft Gold Certified company and ranked very high in portal development and data solutions using best of technology. Bitscape also provides search engine marketing and business process outsourcing services. To know more about Bitscape email to info AT bitscape.co.in or visit http://www.bitscape.co.in
####