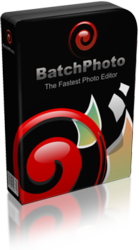 Craiova, Romania (PRWEB) February 01, 2012
Bits&Coffee has released BatchPhoto v. 3.1, a powerful all-in-one photo manipulation program for Windows that lets photographers, web designers, business people, and families enhance photos quickly and efficiently. Simply select a group of photographs, and with a single operation annotate, touch-up, apply special effects, convert to different image types, resize, and rename every image in the group.
With BatchPhoto Enterprise the users can automate their photo editing workflow with a consistent process by creating hot folders with associated custom scripts that will only be applied to the newly added images. The Monitor is the new component of BatchPhoto Enterprise, responsible for monitoring an unlimited number of folders on the user's computer, network or sites (through FTP), and for each monitored folder apply a custom set of edits whenever images are added or modified.
For example, with BatchPhoto Enterprise the user can transfer a few hundred RAW images from a DSLR digital camera to a hot folder and in a few minutes have all the images automatically resized, rotated, watermarked with a logo, renamed, converted to TIFF and uploaded to a FTP account. All of this without the user's intervention.
New features in version 3.1 include the Enterprise edition with the new Monitor component, detailed logs with the processed images, new & improved predefined profiles, support for undo & redo in the user interface, a new Polaroid graphical filter, translation to Japanese, and some additional improvements and fixes.
Digital photographers who need to be able to enhance a collection of images with a single operation, real estate or construction professionals who need to process a steady flow of images efficiently, or insurance companies or law firms employees who need to annotate and watermark images for clients, can find BatchPhoto as the right tool for the job. There's even a Home version of BatchPhoto for the amateur photographer who wants to touch up and enhance images more efficiently.
BatchPhoto v. 3.1 runs under Windows 7/Vista/XP. It comes in three editions: Home, Pro, and Enterprise priced at $34.95(US), $59.95(US), respectively $149.95(US) and may be purchased securely online from http://www.batchphoto.com/. A free trial version can be downloaded from the same web address.
Since 2005, Bits&Coffee has been developing and marketing image enhancement productivity software for business and home users. In addition to BatchPhoto, the company also offers Image Espresso, a free online image converter and editor that makes it easy to convert, resize, crop, rotate, touch up, and apply effects to images.
# # #