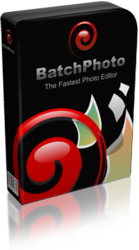 Craiova, Romania (PRWEB) June 22, 2012
Bits&Coffee has released BatchPhoto for Mac OS X v. 1.0. The best solution for manipulating large batches of photos on Windows PCs, in development since 2005, has now arrived on Mac OS X.
BatchPhoto is a powerful all-in-one photo manipulation program that lets photographers, web designers, business people, and families enhance photos quickly and efficiently. Simply select a group of photographs, and with a single operation annotate, touch-up, apply special effects, convert to different image types, resize, and rename every image in the group.
With BatchPhoto the users can easily annotate groups of photos with date/time stamps and comments. Watermark photographs with text, logos, or a combination, to keep them from being abused by competitors or strangers. The program can effortlessly resize, auto rotate (based on EXIF meta-data), crop, and replace colors in each photo.
BatchPhoto can also create PDF albums from multiple photos. It can read and write more than 170 image file formats, including: JPEG, TIFF, PDF, PNG, GIF, BMP, EPS, TGA, and PSD. It can also read RAW image formats from Canon, Sony, Nikon, Olympus, and Fuji digital cameras.
The software includes a full library of artistic effects, including adding borders, highlighting edges, and shading images. It can emboss, sepia-tone, and solarize images. Easily transform a representational photograph into a charcoal drawing or a simulated oil painting. Add swirls, waves, 3D effects, and more. Users can simply touch up groups of photos by changing the contrast, brightness, and color balance. Equalize images, adjust their hue and saturation, reduce the noise in images taken in low light, and sharpen them.
Digital photographers who need to be able to enhance a collection of images with a single operation, real estate or construction professionals who need to process a steady flow of images efficiently, or insurance companies or law firms employees who need to annotate and watermark images for clients, can find BatchPhoto as the right tool for the job. There's even a Home version of BatchPhoto for the amateur photographer who wants to touch up and enhance images more efficiently.
BatchPhoto for Mac v. 1.0 runs on Mac OS X Lion (10.7) and Snow Leopard (10.6). It comes in two editions: Home and Pro priced at $34.95(US), respectively $59.95(US) and may be purchased securely online from http://www.batchphoto.com/. A free trial version can be downloaded from the same web address.
Since 2005, Bits&Coffee has been developing and marketing image enhancement productivity software for business and home users. In addition to BatchPhoto, the company also offers Image Espresso, a free online image converter and editor that makes it easy to convert, resize, crop, rotate, touch up, and apply effects to images.