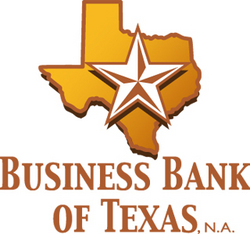 We're proud to have earned a five-star rating from BauerFinancial
Austin, TX (PRWEB) February 10, 2011
Business Bank of Texas, N.A., today announced it has received a five-star rating from BauerFinancial, Inc., the nation's leading independent bank research firm. Five stars represents a performance rating of "superior" and is the highest level of banking performance recognized by the firm. BauerFinancial, Inc., reviews regulatory guidelines and federal regulatory data to rate banking institutions based on capital ratio, profit/loss trends, delinquent loans, and other factors. Institutions are rated on a scale of zero to five stars. Banks with four and five-star ratings are "recommended" by BauerFinancial, Inc.
"We're proud to have earned a five-star rating from BauerFinancial," said Business Bank of Texas co-founder and Chief Financial Officer, Mary Ann Hebel, "We value the trust our customers place in us and we work hard each day to earn it. The rating is an affirmation of our commitment to them."
With new regulatory guidelines in place for 2011, much of the banking industry is preparing for a significant increase in service fees charged to businesses and consumers alike (see WSJ article). Through its efficient balance of offline and online banking services, Business Bank of Texas can avoid these increases and continue to deliver on its promise of professional, simplified, low to no-fee banking.
Said Business Bank of Texas co-founder and President, Ed Lette, "The business model for larger banking institutions simply won't allow them to comply with these new regulations without increasing service fees. We can't and won't operate that way."
Business Bank of Texas uses only the latest online banking service technology to make banking easy and keep costs low. Additionally, the bank offers a wealth of helpful business and financial information through its own website . Called the Business Resource Center, the online community of business and financial experts offers up-to-date education and counsel on a variety of topics ranging from marketing to operations.
About Business Bank of Texas, N.A.
Established in 2007 with offices in northwest Austin, Business Bank of Texas, N.A., is dedicated to meeting the needs of businesses and entrepreneurs across the state. Founder, President and Chief
Executive Officer, Ed Lette, has become founding president of four national bank charters, including Business Bank of Texas, and has served as Chief Financial Officer for five national banks over the course of his 45-year career. The bank's co-founder, Executive Vice President and Chief Financial Officer is Mary Ann Hebel. Prior to Business Bank of Texas, Hebel, a 37-year veteran of the financial services industry, held posts as CFO and COO while contributing the success of two other national banks. Prior to receiving its five-star rating, Business Bank of Texas shed its de novo bank classification as scheduled.
About BauerFinancial, Inc.
Bauer Financial, Inc. analyzes and reports on the financial condition of the nation's banks, thrifts and credit unions - commonly known as primary financial institutions. The data used is referred to as "call reports" which regulators require each federally insured financial institution to file, supplemented by its own research. The five-star rating system, introduced in 1988, is nationally recognized as "the bank rating system." Visit BauerFinancial online .
###