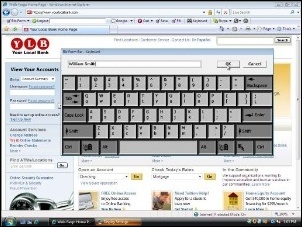 We believe that the addition of the anti-keylogger virtual keyboard to BizForm Bar adds a very useful and unique feature
TUSTIN, Calif. (PRWEB) March 22, 2007
A quick search in Google using the term "keylogger software" yields over 2,000,000 results, most of which offer software for logging user's keystrokes. With the wide spread availability of malware and spyware software on the market today, even the most novice hacker can build software capable of monitoring user's computers and keystrokes. Despite encrypted pages and encrypted links to host websites and encryption keys offered by banks and other institutions, keys typed on the keyboard can be detected and transmitted away long before any of this information is encrypted in the user's computer.
Keylogging software can be programmed to watch when users go to specific websites, such as eBay, banks, PayPal, or anywhere sensitive personal information can be obtained. When users arrive at these websites, the software begins transmitting all the keystrokes to the attacker's website. With the BizForm Bar anti-keylogger, users can pop up a virtual keyboard and type in data that's sent directly to the encrypted page. Each time this keyboard is launched, the keys are scrambled, making monitoring the keyboard virtually impossible.
"We believe that the addition of the anti-keylogger virtual keyboard to BizForm Bar adds a very useful and unique feature," said Carl Perkins, President of PBHLLC. "We believe that the BizForm Bar should be a standard feature with all security encryption keys and secure encryption schemes. We hope that banks and other institutions who provide encryption keys to their customers make the BizForm Bar the mandatory entry method for critical information such as account numbers, usernames and passwords."
Besides the BizForm Bar's enhanced security features, it also gives users a suite of useful tools, including the ability to search the search engine of their choice directly from the toolbar, conveniently make or receive Skype calls directly from their browser, and watch streaming business TV channels like CSPAN and Bloomberg TV.
BizForm Bar is designed to provide users with a complete set of tools to manage their sensitive data online. We are focused on providing FREE business enhancement tools supported by our advertising customers whose listings are shown above the search from the toolbar. BizForm Bar is available for download for free from Cnet at http://www.download.com and Zdnet at http://www.zdnet.com. This product is certified spyware safe by Cnet.
About BizForm Bar
PBHLLC, a Tustin, California based firm and a developer of online technologies, jointly with IP Marketing Concepts, an Orange, California based marketing firm, developed the BizForm Bar toolbar to assist users in safely entering personal information, managing their passwords, filling out forms, and other online information.
For more information, please visit BizForm Bar at http://www.bizformbar.com.