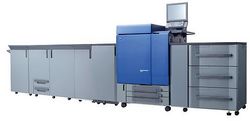 The bizhub PRESS production print line was designed with the end user in mind. It delivers market-leading innovation in the areas of productivity, reliability and workflow enhancement, and raises the bar in the production print industry
Philadelphia, Pa. (Vocus) April 20, 2010
Konica Minolta Business Solutions U.S.A., Inc. (Konica Minolta), a leading provider of advanced imaging and networking technologies for the desktop to the print shop, today introduced the bizhub PRESS® C8000, the first in the company's innovative bizhub PRESS production print product line. With the launch of Konica Minolta's next generation of digital presses, the bizhub PRESS product line features superior color accuracy and management, enhanced media handling, and impressive productivity, making it an outstanding introduction to Konica Minolta's award-winning line of digital color systems.
The bizhub PRESS digital systems will be designed to meet the stringent and customer-driven demands of the commercial offset and high volume digital environments. Image quality, durability, flexibility and volume capability are all focuses of the bizhub PRESS brand. Combining stable, high-resolution output with uncompromised full-color quality at fast output speeds of 80 pages per minute (ppm), the bizhub PRESS C8000 introduces the new brand to print professionals as an ideal replacement for full-color offset systems.
"The bizhub PRESS production print line was designed with the end user in mind. It delivers market-leading innovation in the areas of productivity, reliability and workflow enhancement, and raises the bar in the production print industry," said Kevin Kern, Senior Vice President, Marketing, Konica Minolta Business Solutions U.S.A. Inc. "Delivering efficiency and uncompromised output quality at competitive production print speeds, the bizhub PRESS C8000 introduces this new product line and provides further proof of how print professionals can count on Konica Minolta to respond to the ever-changing demands of the market."
Preliminary product features of the bizhub PRESS C8000 include:

80 color ppm on a wide variety of stock
Simitri® HD+ color polymerized toner for natural lustrous-looking images on par with offset printers
IDC (Image Density Control) sensor for real-time color density adjustment
New density balance adjustment mode for stabilized printouts through consistent density
Up to 350g/m2 paper stock handling
Air suction belt feeding mechanism offering sure paper feeding to handle a wider variety of media
A hybrid de-curling mechanism reducing paper curling
O.R.U.M. (Operator Replaceable Unit Management) allows the operator to make routine maintenances for significantly reduced downtime
70 color ppm (A4/Letter) for even 300g/m2 thick paper
Automatic Duplex printing for paper up to 300g/m2 thick
Data processing at 1,200dpi / 8-bit resolution
High precision printouts at 1,200dpi x 1,200 dpi resolution
High reliability and durability for professional confidence with Highly rigid frame/long-lasting parts and long-life units and consumables
The cutting-edge image processing technology behind the high image quality rivaling offset printing with S.E.A.D. II – Konica Minolta's proprietary technology synonymous with consistency of color and clarity of the text
Various in-line post-processing finishing options for high performance, productivity and added value
Witness firsthand the award-winning technology from Konica Minolta at the 2010 ON DEMAND Conference and Exposition (April 20 through April 22) at the Pennsylvania Convention Center in Philadelphia, Penn. To schedule a personal tour of the Konica Minolta Booth (#1324) and/or an executive interview, please contact Rachel Reed at Rachel.Reed@kmbs.konicaminolta.us.
About Konica Minolta
Konica Minolta Business Solutions U.S.A., Inc. is a leader in advanced imaging and networking technologies for the desktop to the print shop. In 2009, Konica Minolta was named Supplier of the Year by both the Allegra Network and the National Association of Quick Printers (NAQP), as well as received the Sales Support Award from Mail Boxes Etc., Inc. For more information, please visit CountOnKonicaMinolta.com and follow Konica Minolta on Facebook and Twitter.
Konica Minolta Contact
Rachel Reed
Konica Minolta Business Solutions U.S.A., Inc.
Konica Minolta is a registered trademark of Konica Minolta Holdings, Inc. bizhub PRESS is a registered trademark of Konica Minolta Business Technologies, Inc. Simitri is a registered trademark of Konica Minolta Business Solutions. All other trademarks mentioned in this document are the property of their respective owners.
###