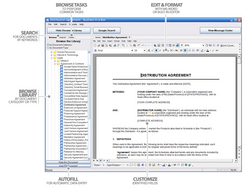 Very few people would guess it, but Business-in-a-Box has been sold in more countries than the world's leading brands.
Montreal, Canada (Vocus) February 25, 2010
Business-in-a-Box, a business productivity software, has a foothold in more countries than HP, FedEx and even McDonald's!
Very few people would guess it, but Business-in-a-Box has been sold in more countries than the world's leading brands. Since 2001, over 2 million small and medium businesses on the planet have enjoyed a boost in productivity thanks to this business software.
The software maker is Biztree, a Montreal-based tech firm that remains relatively unknown despite being in business for nearly a decade. Yet its flagship product Business-in-a-Box is the world's no. 1 business document templates software. It offers a totally unique library of over 1,500 documents such as contracts, legal agreements, resolutions, meeting minutes, letters, spreadsheets, plans, proposals, press releases, company policies, forms and checklists. It's an essential business tool that facilitates the launch, management and growth of any business. As document writing is one of the most time-consuming activities in business, SMBs around the globe have every incentive to make use of templates instead of writing documents from scratch!
The software is currently available in English, French, Spanish and Chinese. A free demo can be downloaded from the company's website, located at http://www.biztree.com. The company plans to add Portuguese, Arabic and German in 2010. Biztree is also in talks with several large multinationals to distribute or bundle Business-in-a-Box with their offering. Potential partners include computer makers, banks, software companies, telecoms, etc.
Together with annual document additions, Biztree continually releases new features that bring Business-in-a-Box closer to a complete solution for document management and automation.
About Biztree
Founded in 2001, Biztree develops and markets productivity software for small and medium-sized businesses and home-office entrepreneurs.
Biztree's mission is to empower business people from around the world to reach their full potential. It aspires to be renowned for its capacity to assist customers in becoming more competitive, in a world where businesses transact at an unprecedented speed.
Through a unique product development process, passionate and dedicated employees, and excellent relationship with its customers, the company delivers high quality yet affordable products.
Biztree is a privately-owned company headquartered in Montreal, Canada. The company also has offices in New York, London and France.
Contact:
Marc Berouti / Marketing Director
Biztree Inc.
555 Rene-Levesque West, Suite 1500
Montreal, QC H2Z 1B1
Canada
1.514.768.3311 ext. 221
1.866.999.3311 ext. 221
###