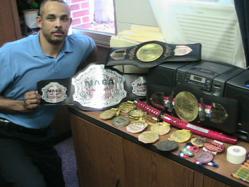 Belcamp, Maryland (PRWEB) April 30, 2013
This past Saturday retired Army vet. and Aberdeen Proving Ground (APG) civilian, Ron Seldon of Forest Hill Maryland, was promoted to the prestigious Brazilian Jiu-Jitsu (BJJ) rank of Brown Belt.
Seldon has been training BJJ for last seven years and has amassed a whole collection of BJJ belts and medals. Originally getting into the art after enrolling is kids under instructor Ron Stallings, Seldon quickly fell in love with the martial art and credits it for keeping him in great shape and feeling young. In the last few years Seldon has won quite a few IBJJF tournaments, the most prestigious BJJ tournaments on the planet. Now that he is a Brown belt he looks to keep his winning ways going into the elite division. Along with staying active with competing, he also finds it vitally important to pass the knowledge down to all the Top Flight MMA students whether they want to compete or just live healthy like him.
" I love competing! I've been competing in different sports all my life and this by far is the most rewarding one, mentally, spiritually, and physically. I'm excited to compete at the next level real soon and work way my way to the ultimate goal of being a BJJ black belt", says Seldon.
Seldon teaches beginner and advance BJJ classes at Top Flight MMA all through out the week day evenings and weekend. He welcomes everybody to come feel the numerous benefits from training martial arts and Brazilian Jiu-Jitsu.
"Training martial arts is great, its one of the best things Ive ever done and I started late in some standards but If I can do it then anybody can do it," Seldon.