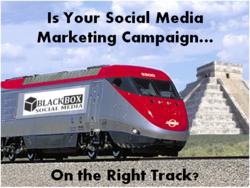 By combining several of the strategies and tips included in this report with excellent content, you can ensure your blog's vitality and help increase the number of visitors you have on a daily basis
Austin, Texas (PRWEB) July 31, 2012
A well thought out blog with excellent content is worthless if no one reads it. That's why Black Box Social Media has released their report on how to attract more traffic to your blog page available here.
"There are quite a few little tricks to the trade to attracting viewers to your blog," says Black Box Social Media Co Founder Nick Bridges. "It's more than just SEO or utilizing key words. Our report will go into detail about the different things that you can do to get found online."
Since the implementation of the Google Penguin update, many have felt that it's not possible to get much traffic to their site. To view BBSM's Tips on Getting Around Google Penguin, click here.
"By combining several of the strategies and tips included in this report with excellent content, you can ensure your blog's vitality and help increase the number of visitors you have on a daily basis," continues Mr. Bridges.
To view this free report, please visit http://blackboxsocialmedia.com/tips-for-attracting-visitors-to-your-blog/
About Black Box Social Media: Black Box Social Media is an online marketing company that utilizes multiple web 2.0 strategies including web design, social media marketing, pay per click, video marketing, article creation, and much more. BBSM also created the do it yourself online training product 'Social Media In 7 Minutes', which contains over 60 videos detailing how to create, set up, optimize, and engage on top sites such as LinkedIn, Facebook, YouTube, Pinterest, Google+, Twitter, and more. For more information on Social Media In 7 Minutes, please visit http://SocialMediaIn7Minutes.com.