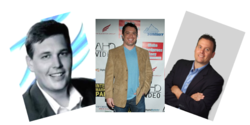 Austin, Texas (PRWEB) July 10, 2012
Does social media play a role in search engine optimization? According to Black Box Social Media, it does. Black Box Social Media released a report detailing what any small business can do to improve its rankings in the search engines. To view the report, please visit http://blackboxsocialmedia.com/how-to-use-social-media-to-jump-up-the-search-engine-rankings/.
"With the new Google update, many are searching for a new strategy that will work to gain rankings in Google quickly and maintain it," says Black Box Social Media CEO Tom Bukacek, who is co author of Marketing Miracles with Dan Kennedy. "One of the keys to gaining high rankings is to use social media profiles and backlinks. By using the right methods, you can find your website on the first page of Google within a couple of weeks, and you can keep it there."
In this report, Black Box Social Media details several different ways that you can use social media to increase your rankings in the search engines.
"Part of the Google algorithm involves proving that your content is of good quality," says Co Founder Nick Bridges. "Having 'Likes', comments, shares, retweets, or whatever is a great social signal to Google and Bing that your information is of good quantity. It makes perfect sense that social media would have a significant role in search engine optimization."
About Black Box Social Media: BBSM is an online marketing company that provides services such as video marketing, article marketing, web design, SEO, social media, and other web 2.0 strategies for it's clients. In addition, BBSM also created 'Social Media In 7 Minutes', an online training program with more than 60 step by step videos detailing how to set up, optimize, use, and engage on the top social networking sites, such as Facebook, Twitter, G+, Pinterest, LinkedIn, YouTube, and more.