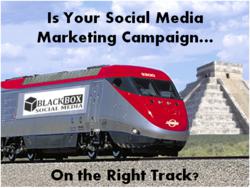 The marketing strategies discussed in this report are not only innovative but they're cost effective as well
Austin, Texas (PRWEB) September 12, 2012
"7 Exceptional Innovative Marketing Tips" is a report released by Black Box Social Media, an online Internet marketing company that focuses on utilizing the latest digital marketing strategies for small businesses. To view the report, please visit http://blackboxsocialmedia.com/7-exceptional-innovative-marketing-tips/
"One of the biggest impediments to doing Internet marketing is often the price tag that good advertising and marketing comes with," says Tom Bukacek, CEO of Black Box Social Media and author of "Marketing Miracles" with Dan Kennedy. "What many people fail to understand is that there are plenty of innovative marketing techniques that anyone can implement that won't cost a small fortune. This free report will detail a few easy to implement innovative marketing strategies."
Internet marketing allows an unprecedented opportunity for businesses to connect and interact with their current and potential customer…if they effectively utilize the proper strategies. But should businesses be concerned with the price tag that goes along with online marketing?
"The marketing strategies discussed in this report are not only innovative but they're cost effective as well," continues Mr. Bukacek. "All of these tips have been proven effective and can help your business or website get the sort of attention it deserves without spending more money than you can justify."
To view "The 7 Exceptional Innovative Marketing Tips" report, please visit http://blackboxsocialmedia.com/7-exceptional-innovative-marketing-tips/
About Black Box Social Media: Black Box Social Media is an online marketing company that utilizes multiple web 2.0 strategies including web design, social media marketing, pay per click, video marketing, article creation, and much more. BBSM also created the do it yourself online training product 'Social Media In 7 Minutes', which contains over 60 videos detailing how to create, set up, optimize, and engage on top sites such as LinkedIn, Facebook, YouTube, Pinterest, Google+, Twitter, and more. For more information on Social Media In 7 Minutes, please visit http://SocialMediaIn7Minutes.com.