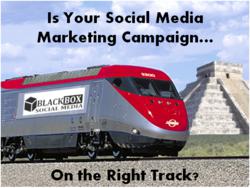 eople make the fatal assumption that because social networking sites are 'free' that you shouldn't invest in learning how to use them
Austin, TX (PRWEB) August 01, 2012
With some many companies seeking to implement their own social media marketing plan in their business, social media manager training has become increasingly important. In order to determine the best type of training, Black Box Social Media has released a new report titled "Social Media Manager Training Tips." To view the report, please visit http://blackboxsocialmedia.com/tips-for-social-media-manager-training/.
"With Facebook nearing 1 billion users, G+ already at 100 million users and climbing, and YouTube getting 1 trillion uploads a year, you would think that getting your message out on social media is pretty simple," says Black Box Social Media CEO Tom Bukacek, who has penned a chapter on Social Media Marketing available in Dan Kennedy' upcoming book "Marketing Miracles". "But with a great amount of eyeballs comes a great deal of competition, and a good social media manager will only be as good as his or her social media manager training. This is why our report, which will detail the two most important aspects of training, is so important!"
Social media is much more than just posting on social networking sites and asking people to buy products and service. Rather, social media has to do with engaging people, listening to their responses, and communicating in the best possible manner. What tools will cause interactions? Photos? Contests? Videos? All of the above?
"People make the fatal assumption that because social networking sites are 'free' that you shouldn't invest in learning how to use them," continues Mr. Bukacek. "But if you're not aware of all the possibilities that exist, and you don't use the best social networking site for right type of medium, then you're wasting your time and money."
To read the report, please visit http://blackboxsocialmedia.com/tips-for-social-media-manager-training/
About Black Box Social Media: Black Box Social Media is an online marketing company that utilizes multiple digital marketing strategies including web design, social media marketing, pay per click, video marketing, article creation, and much more. BBSM also created the do it yourself online training product 'Social Media In 7 Minutes', which contains over 60 videos detailing how to create, set up, optimize, and engage on top sites such as LinkedIn, Facebook, YouTube, Pinterest, Google+, Twitter, and more. For more information on Social Media In 7 Minutes, please visit http://SocialMediaIn7Minutes.com.