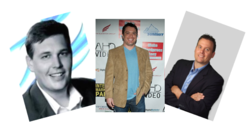 This report will answer these valuable questions for marketers.
Austin, Texas (PRWEB) July 21, 2012
Pinterest is the newest social media darling garnering significant attention, especially among the female demographic. However, with so many options for local business promotion, how does one figure out if using Pinterest is the right fit for their business? Black Box Social Media has released a report available at their official blog site titled "How to Use Pinterest to Brand Your Local Business". To read the report, please visit http://blackboxsocialmedia.com/Pinterest-Local-Report.
"Not every social media platform is going to work for every business," says Black Box Social Media CEO Tom Bukacek, who is also co-author of the upcoming book "Marketing Miracles" with Dan Kennedy due out this Fall. "For some businesses, LinkedIn doesn't make any sense. For others, Pinterest may be a very wise choice. This report will assist you in figuring out whether or not your local business should use Pinterest as part of their social media marketing plan."
On of the tips reveled in this post focuses on what types of pictures you can post.
"Often focusing on how your product makes the user feel rather than the product itself can be an effective way of creating an interest in your product in an indirect way," continues Mr. Bukacek. "But this doesn't exactly mean you should never post an 'advertising' picture of your product. How often; what ratio of non-advertisement photos to self-promotional shots should you pin in order to keep your customers' interest? This report will answer these valuable questions for marketers."
About Black Box Social Media: Black Box Social Media is an online marketing company that utilizes multiple digital marketing strategies including web design, social media marketing, pay per click, video marketing, article creation, and much more. BBSM also created the do it yourself online training product 'Social Media In 7 Minutes', which contains over 60 videos detailing how to create, set up, optimize, and engage on top sites such as LinkedIn, Facebook, YouTube, Pinterest, Google+, Twitter, and more. For more information on Social Media In 7 Minutes, please visit http://SocialMediaIn7Minutes.com.