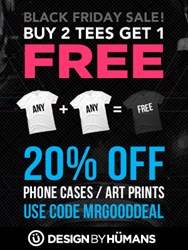 Buy 2 Get 1 Free on all Tees this Black Friday to Cyber Monday; and 20% off new Phone Cases and Art Prints.
Chico, Ca (PRWEB) November 27, 2013
It's the annual Black Friday to Cyber Monday sale at Design By Humans. The only difference this Black Friday is that Design By Humans has added more graphic shirts, phone cases, and wall art prints. Buy any 2 tees and get 1 DBH Original Tee Free; plus 20% off all iPhone cases and prints. This Black Friday to Cyber Monday sale use Coupon Code : MrGoodDeal until December 2nd at Midnight to get the best prices on all Design By Humans gear.
The 2013 Black Friday and Cyber Monday Deals
Buy any 2 DBH shirts get a free DBH Original Tee
Use Coupon Code MrGoodDeal at checkout for:
20% off all Phone Cases
20% off all Art Prints
Shipping
Free Shipping on T Shirt orders over $75
$10 Flat Rate Shipping on International T Shirt Orders over $125
What's New at Design By Humans
New phone case and art print options were released on October 15th expanding the t shirt company into new mediums of style and art. There are over 3200 new designs and custom colors to choose from to completely make any style creative and unique. Protective and creative phone case designs and wall art prints are two new product options added to the Design By Humans shop. This Black Friday to Cyber Monday sale will be a rare opportunity to save 20% on both items.
New Collective Art has greatly expanded with thousands of new designs. There are now over 400 designers each with a creative skill, style, and portfolio. As of November 15th there are 3200 designs, ranging from fine line drawings to hilarious comics. The DBH Collective is a growing set of artists that are known for creativity, artistic talent and trending designs.
Different Ways to Shop the Design By Humans
3200 Collective Designs with Custom Color Choices
400 Contest Winning Tees
300 Phone Case Designs
New 8 x 10 to 24 x 36 Art Prints
E Gift Cards for Easy Gifting
Black Friday to Cyber Monday Bring The Best Deals All Year Long
Why shop Design By Humans on Black Friday? This is the biggest sale of the year, where you can stock up on holiday gifts for friends and family. Buy 2 Get 1 Free on all 3200 t shirt designs, 20% off Phone Cases and Prints. For the stylish teen a new graphic tee, the hip iphone owner, a colorful new case, and the young designer professional, some new artwork for the walls. Take care of all your creative needs this year at DesignByHumans.
Visit DesignByHumans.com to take advantage of the Black Friday to Cyber Monday sale Wednesday November 27th to December 2nd to get women's or men's shirts, phone cases and prints before the holidays.