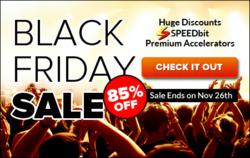 SPEEDbit welcomes 2012 Black Friday with an incredibly huge 85% discount sale
(PRWEB) November 23, 2012
SPEEDbit debuts its revolutionary Cloud Accelerator and celebrates it with a crazy, best ever, Black Friday Sale (85% discount!) on SPEEDbit Home Acceleration Pack - $29.95 instead of $239.70.
Following the release of the new and exclusive Cloud Acceleration Solution for Enterprises, SPEEDbit welcomes 2012 Black Friday with a huge 85% discount sale starting on November 20th. One Black Friday, the best seller SPEEDbit Home Acceleration Pack will be sold for only $29.95 instead of $239.70 and shoppers can get discounts on other SPEEDbit premium accelerators.
SPEEDbit's accelerators are the most popular choice for internet users who prefer smooth and buffering-free online video watching and as fast as possible online downloading experience and they offer video and download acceleration in an unprecedented fast and safe manner.
SPEEDbit Acceleration Pack includes Download Accelerator Plus (DAP) and SPEEDbit Video Accelerator; the Home Acceleration Pack includes three licenses of each product and can be used on three different computers. SPEEDbit Black Friday Sale offers the best value for money - the biggest discount festival ever of the premium video and download accelerators - the best video and download experience available.
SPEEDbit 2012 Black Friday sale starts on November 20th and ends on November 26th, 2012. It is a one-time chance to save more than $200 on SPEEDbit supreme video and download accelerators. SPEEDbit accelerators individually or the Acceleration Pack on Black Friday prices can be purchased directly on SPEEDbit store: http://www.speedbit.com/store/?ref=PRWeb
About SPEEDbit
SPEEDbit is the creator of some of the world's most popular video and download acceleration programs, with hundreds of millions of users around the world and tens of thousands of new installs per day. SPEEDbit's award-winning patented technology maximizes bandwidth utilization and efficiency to ensure content downloading and streaming is delivered in the fastest and most efficient manner. Now even Enterprises can benefit from SPEEDbit's Premium Acceleration with the new SPEEDbit Cloud Accelerator- Cutting down data delivery from minuets to seconds.