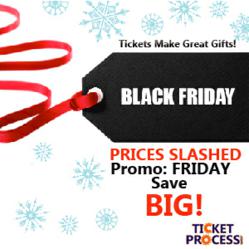 (PRWEB) November 21, 2012
Black Friday 2012 is expected to be one of the largest commerce days in American history, and the annual 24-hour period got its name from the fact that many businesses do such a large portion of business on this particular Friday that it allows them to get their profit margins into positive numbers, which are represented in black on spreadsheets. TicketProcess has built a reputation as a reliable and trustworthy online ticket exchange by offering excellent deals 365 days per year, and their Black Friday sale will be especially beneficial for those looking to score cheap tickets.
Too many concerts, major sporting events and excellent Broadway shows will take place in the next few months to mention here, and TicketProcess.com literally has a bevy of tickets that will be enjoyed by everyone from the most hard-core college football fan to the biggest theater buff in all of New York City. Upcoming tour dates involving The Rolling Stones, Bon Jovi, Taylor Swift and Justin Bieber are all selling out fast, and each would make an excellent holiday gift.
The National Football League's Super Bowl and college football's annual BCS Championship are just around the corner, and one surefire way to excite a friend or family member come December 25th would be to tuck a couple of these exclusive tickets inside of card and a well-sealed envelope. The esteemed Broadway show Wicked is also playing in various regions of the country in the upcoming months, and any fan of the theater would love to receive theater tickets to this incredible performance.
Making a visit to TicketProcess by way of any iPhone, the Android Marketplace or any computer would be a wise move for folks looking to get the pick of the litter of concert tickets, sports tickets or theater tickets this holiday season. Stop by the TicketProcess blog or Facebook fan page to stay informed and up to date on all live event schedules.