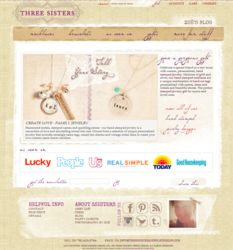 Each tag is hand stamped with names, dates and initials creating an eclectic hand stamped necklace.
Los Angeles, California (PRWEB) November 23, 2012
Whether ready or not, the Holidays are here and with Holidays come food, family and presents. Sometimes searching for the perfect present can be stressful and an anxious shopper often comes up short on finding something unique that can be loved and cherished by a close relative or spouse. Look no farther for a thoughtful, personalized Christmas gift for that special someone.
Three Sisters Jewelry Design is announcing an exclusive 20% off Sale on Black Friday featuring their Stroller Strides personalized necklace line. Stroller Strides is "the country's largest stroller fitness program for moms offering pre and post-natal fitness classes for every stage of motherhood." The sale will feature some of Three Sisters best pieces such as 'Stroller Strides Simplicity' and 'Stroller Strides Dinah.' The Stroller Strides sale page is secret and can only be previewed here.
Three Sisters Jewelry Design is a San Diego based personalized jewelry company created by Zoe Mohler, who thanks her three young daughters for her daily inspiration, "they are the three sisters." The website displays a wide selection of elegant personalized jewelry items for everyone to enjoy; featuring a range of necklaces, bracelets, and earrings. "Each tag is hand stamped with names, dates and initials creating an eclectic hand stamped necklace." These unique pieces of jewelry are great items to represent something sentimental or momentous in your life. Whether it be a child's name, a spouses initial or an anniversary date; Three Sisters provide jewelry to be treasured for years to come.
Each Three Sisters Jewelry Design features a variety of different styles in each category. Bracelets come in the form of bangles, fabric wraps, string wraps, beads, rhinestones and silver links. Necklaces are available in several different sized chains varying from 16-24 inches, containing a rectangle, locket, name charm, or disc shaped center piece. With options of gold and/or silver consumers can't go wrong choosing a piece of jewelry for that special someone.