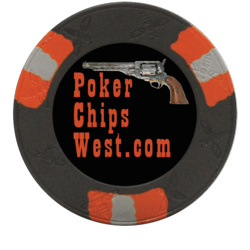 A king can do no wrong … unless it runs into an ace.

-- Anonymous
Reno, NV (PRWEB) November 20, 2012
Today PokerChipsWest.com announced its seasonal promotions including Black Friday and Cyber Monday.
Black Friday features a 20% discount on all poker chips and poker cases. This promotion starts at midnight on Thursday night and ends at midnight Friday night. This is a great way to personalize your best gift to your poker player.
Free Shipping anywhere in the 48 United States is available on Cyber Monday for all preconfigured and customizable poker chip sets. These attractive sets include 300 or 500 poker chips, a sturdy aluminum case, two decks of poker playing cards and a set of dealer buttons including the dealer, big blind and little blind buttons. Save a lot with this free shipping offer this Christmas. These sets are much appreciated Christmas gifts by the poker player in the family.
A great way to impress your favorite poker player is to personalize the poker chips with his or her initials. Both sides of the chips are available for foil embossing of initials or chip dollar values. This sales promotion provides the consumer the opportunity to provide the poker player in their life with professional poker chips at a very affordable price. This is a much better gift under the tree than a tie or shirt.
Many of these poker chips and sets can also be customized with initials in gold or silver foil. Be sure to take advantage of this offer now and be guaranteed delivery before Christmas even with the personalization. Personalization can be accomplished on the website with the Poker Chip Personalization product which is presented with each customizable poker chip series. The latest day to order personalization with ground shipment for delivery before Christmas will be December 10. Orders can be placed after that date with an Express Fee and premium shipping. You can click on any Poker Chips or Poker Chips Sets in this article and order your product. Then click on the Personalization product and add initials and values.
About Poplyn eCommerce Inc
Headquartered in Reno, Nevada, the company is an internet eCommerce business committed to provide the highest quality gaming and leisure product online stores for the consumer and business to business markets with products currently available on the Internet for shipment in the United States and Canada. For additional information please visit our websites at http://www.pokerchipswest.com or http://www.gamblersgifts.com, or send an inquiry to info(at)pokerchipswest(dot)com.
Press Contact:
Reno Bill
PokerChipsWest
348 Mill Street
Reno, NV 89501
(775) 333-2828
dfoote(at)poplyn(dot)com
You can visit us at our new upgraded website at http://www.PokerChipsWest.com which is open 24/7/365 days. Or call us toll free at 1-888-PKRCHPS (1-888-757-2477) from 9AM to 5PM Pacific Time, Monday thru Friday.