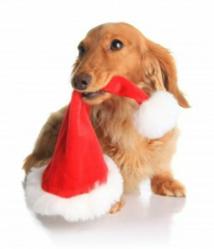 We've picked ten of the best dog products available today. Give any dog owner any item from this list and they're sure to be thrilled!
Boca Raton, FL (PRWEB) November 21, 2012
Black Friday, the day after Thanksgiving Day in the United States, is traditionally the beginning of the Christmas shopping season and the biggest shopping day of the year. Originally named after the disruptive heavy traffic on that day, the term "Black Friday" later came to be described as the day that retailers began to turn a profit, or became "in the black".
Coined in 2005, "Cyber Monday," the first Monday after Thanksgiving, is known as the biggest online shopping day of the year. It's a day when online retailers promote serious discounts and promotions and a great opportunity to snag some deals on Christmas gifts.
According to a Petfinder.com poll, 63% of dog owners said they give Christmas presents to their pets. And, Time Magazine reports, Americans spend some $5 billion annually on holiday gifts for pets.
Dogington Post, the popular dog news site geared up in preparation for Black Friday and Cyber Monday. "We are not a retailer, so we approach the holiday madness a bit differently," said Brandy Arnold, Content Editor for Dogington Post. "We are taking the opportunity to educate and inform the dog loving community while we have their focused attention."
First, the site's editors and writers scoured the country looking for the hottest (and the coolest) products for 2012. We tested them extensively and ten lucky products made our "Pet-tacular Gift Guide".
Dogington Post found the best products around the country. From healthy treats to a unique new leash, and fun new toys to a device that turns your pet into a photographer, the site found the perfect gifts for even the most discerning dog owner.
The gift guide is part of a new feature to the site offering unbiased and honest reviews of the products dog lovers use.
"People struggle to find the perfect holiday gift. There are just so many products out there that shopping for the right gift becomes overwhelming," said Brandy. "We've simplified the process by picking ten of the best dog products available today. Give any dog owner any item from this list and they're sure to be thrilled!"
Dogington Post reaches up to 2.5 million dog lovers each week. In addition to publishing product reviews and their holiday gift guide, the site also publishes the latest dog news, safety information, and most recently, a Black Friday for Pets consumer initiative to ban Wal-Mart stores for selling dangerous jerky treats from China.
Dogington Post will also celebrate Black Friday by publishing a slideshow of reader-submitted photos of their black dogs on the site's home page.
For more information about Dogington Post and their Black Friday and Cyber Monday initiatives, visit http://www.dogingtonpost.com.
About Dogington Post:
DogingtonPost.com was created for the love of dogs. It promises a forum of informative articles, newsworthy dog stories, health and breed information, and heartwarming videos. The site addresses current issues affecting dogs and their human parents – from serious health concerns to lifestyle issues on feeding, grooming and the overall well-being and mental health of dogs. It is the Internet newspaper, all about dogs.