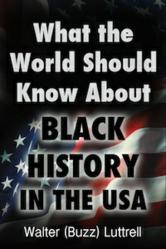 I was appalled to hear from many students that so little about the contributions of Black Americans in the building of this country, and Whites who bravely supported abolition is included in today's U.S. history books.
Boston, MA (PRWEB) May 15, 2013
The author, former TV reporter/talk show host W.G. Buzz Luttrell, says, "I hope to make readers (especially young students) want to learn much more about the subject. This little illustrated booklet, 'What the World Should Know About Black History in the USA,' links early, sometimes little-known, civil rights heroes and martyrs (Black and White) to modern-day Black success stories from Oprah Winfrey and Condoleezza Rice, to Colin Powell and Ice Tea."
The copy, he states, is intended to spawn images that are hard to forget and very difficult to ignore. How many know, for examples, that: a Black explorer discovered Arizona and New Mexico; a Black Doctor did the first successful heart operation; the first Kentucky Derby 'triple winner' was Black?
Who was the first Black to "star" in an opening night production with the Metropolitan Opera; serve as a federal judge; or represent the U.S. as ambassador to a foreign country? Who were some of the Whites killed for supporting the abolition of slavery, or who risked their lives to teach the newly freed slaves to read right after Emancipation?
The author says, "I was appalled to hear from many students that so little about the contributions of Black Americans in the building of this country, and Whites who bravely supported abolition is included in today's U.S. history books; not 'integrated' as a natural part of our country's history, but crammed into 'Black History Month' - February."
Luttrell feels many people around the world have a distorted view of Black Americans as either rich athletes and entertainers, or (as implied and encouraged by the racially biased) just lazy and unmotivated "takers" choosing to live off government welfare programs.
If eBook reviews generate sufficient interest and sales Luttrell plans an on-line fund-raiser where donors can give the book to under-funded schools of their choice. The book is currently available exclusively as an eBook (see website/blog/$2.99), but will be offered in audiobook, ($5.99) and print ($7.99) formats if the eBook campaign is successful.
Published by eBookIt.com, this eBook(let) is a revised and updated Black history "educational supplement" the author first wrote for a PR client in 1969, "Black America's Echoes Of The Past." Packed with nuggets of little-known facts, he feels it can serve a broad range of needs: teachers can have students expand the booklet's "brief profiles" to enrich every period of U.S. history; White business people, meeting with important Black clients, prospects or associates can quickly learn enough to 'put themselves more at ease' in mixed company; and everyone can use the colorful printed booklet as a "coffee table" conversation piece, and an important "symbol" of interest in a subject, open discussion of which, many feel is vitally important to improved future race relations in this country and around the world.
Contact:
W.G. "Buzz" Luttrell
(781) 738-8818
http://www.LearnAboutBlackHistory.blogspot.com
Black.History.US(at)gmail(dot)com
ABOUT THE AUTHOR
Buzz Luttrell is distinguished as the only broadcast talent to have represented one of the nation's "Business TV" (BTV) network vendors on a full-time basis. As such he helped Convergent Media Systems clients and prospects understand how to use television for business communications objectives, as a program consultant.
At Convergent he also developed and managed a number of "special projects," winning numerous awards and a U.S. Justice Department citation for "The Possible Dream? (A videotape program promoting racial/intergroup harmony in schools, and earning critical acclaim for 'Asian Access Strategies," eleven videotapes on doing business in Asia.
Previously, Luttrell hosted New England's top-rated local television talk show, "People are Talking" at Boston's WBZ-TV, where he won two Emmy's and a national IRIS award.
Before that he was an award-winning television reporter for WXYZ-TV in Detroit, where he started his TV career in 1979 as community affairs director. In 1981 Luttrell created a public service campaign, "The Best of the Class" using television to reward high school academic achievers and motivate other students to strive for scholastic excellence. General Motors then sponsored the program nationally for four years.
Prior to his broadcasting career Buzz served as urban affairs executive for Chrysler Corporation, director of communications for New Detroit, Inc. (a business, labor, community coalition), and vice president of the nation's then largest black-owned public relations firm, Seymour & Lundy Associates. He began his career as a management trainee for Manufacturers National Bank in Detroit.
At New Detroit, he created a widely acclaimed promotional campaign credited with helping improve Detroit's image in the mid-seventies, when the city was known as "The Murder Capital."
Luttrell attended Michigan State University and graduated with a B.A. from Olivet College (MI) with majors in psychology and sociology and a minor in economics.
Today, Luttrell is retired and living in the Boston area with his wife, and close to their combined four children and six grandchildren. He stays busy working on projects he considers to be socially relevant.
# # # #