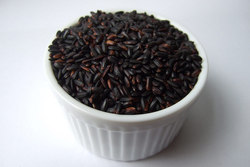 Black rice is a very 'nutty', delicious and healthy rice, but it is also an ultra-powerful antioxidant
Copake, NY (PRWEB) October 8, 2010
In case you haven't heard, black rice has recently established its place among the other "super foods". Up until now, there haven't been any websites solely devoted to this miraculous strain of rice; also known as "forbidden rice". In fact, black rice has been largely ignored by culinary and health food aficionados in the west for hundreds of years.
Blackrice.com has firmly established itself as a frontrunner; it is currently the best source for information about black rice available on the net. If you're looking for information on the history, nutrition, application, short / long term health effects or even where you might be able to find and purchase some black rice, then look no further.
A little history; Black rice was originally a food reserved for the Chinese emperor and the royal family. It was forbidden for anyone to grow or and especially eat any of this rice, hence the name "forbidden rice". It would seem that even in ancient times, people were tuned into the health benefits of black rice.
Black rice is a very 'nutty' and delicious rice, but it is also an ultra-powerful antioxidant, (which is equal to or greater in its power to anything in existence) and it is much more affordable when compared to other super foods.
Antioxidants, (in case you were unaware) are essential for cellular growth and development, they also assist in organ function and may also slow down the aging process. There is even research that indicates that powerful antioxidants can actually partially reverse the aging process in humans.
"I created this site (blackrice.com) for the benefit of everyone." Says Artur Nikitin, creator and owner of blackrice.com. "With the booming interest in preventative health and especially super foods right now things are looking great for us." Couldn't have said it better myself, cheers Artur.
###