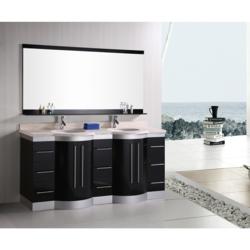 White is a clean, bright color, and black is sleek and bold, but together they make a killer style combination.
(PRWEB) July 20, 2012
HomeThangs.com – the Home Improvement Super Store has made their goal to deliver the right product to the consumer, with that in mind, shopping and home design tips, as well as special product selections are being introduced.
White is a clean, bright color, and black is sleek and bold, but together they make a killer style combination. The very essence of contrast, light and dark, a black and white decor is just about the boldest design choice to make, and a bathroom is the perfect place to try the style on for size. Since many bathroom elements come in black and white already, it isn't a big leap, and typically a bathroom is literally a smaller space than others one would be decorating, which makes it a sensible choice for a wild decor.
HomeThangs.com suggests a few tips on how to design a black and white bathroom and what products to choose.
1. The very first thing to consider is what the balance between the colors should be, ranging from all white to all black and every proportion in between. The most modest design would be a sensible, white-dominant bathroom with a few snazzy black accents. Using a transitional style white vanity, such as Adler VAN066D-60 by Hardware Resources, makes the decor a little more casual, but pairing it with a black vanity top, black and white wallpaper, and a simple black Uttermost Tuxedo Wall Sconce 22442 elevates it to instantly classy.
2. If going for a white modern wall mount vanity like Design Element DEC071B-W Portland and dress the bathroom all in white – walls, floors, window treatments and all – even the smallest black accents will act as little exclamation marks.
3. The more black is added to the bath, the darker it will seem. Even small balance choices – like black versus white grouting on tile – factor into those proportions. To get that perfect 50/50 balance, one has to be careful when choosing furniture and fixtures. For example, the Design Element Springfield 55" Wall-Mount Black Bathroom Vanity DEC1101 with a big, thick white Porcelain Vessel Sink, to the black deck for a white freestanding tub and a white seat will look perfectly balanced. Adding a black and white Blossum S/2 10057 Metal Wall Art by Uttermost and bold black and white stripes on the walls would aim for equality of the two colors. The Tuxedo 6-Lt Single Shade Chandelier 21130 by Uttermost is also a nice classic touch.
4. Using several different finishes and textures of black – from the eggshell paint to the glossy floor and the thick shag style rug – will keep the black from seeming flat or cancelling out the brightness of the white. Instead of using patterned wallpaper or tile, one can rely on texture to draw the eye. And though many black and white bathrooms tend toward the modern, an elegant Clawfoot Tub and antique style Crystal Pendant 122-005 by Sterling and a candle holder add that touch of old world class that takes this bath to the next level.
5. One should beware of patterns with very fine detailing, they can end up looking dizzying at a distance. Larger tiles or a wallpaper with a thicker pattern, like florals, fleur de lis, or even thick stripes would work better.
6. If doing all of even a small bathroom feels a little too bold, instead of repainting the whole space, picking a single wall to try out the style is a good thing to do. The accent wall that happens to spill onto the flooring, and the black door frame would be a nice touch, but neither is necessary – in an otherwise white bathroom, and all black or more-black-than-white wallpaper can look especially dramatic limited to a single wall.
HomeThangs.com is not only a home improvement superstore, it also provides expert design tips and a comprehensive shopping guide, taking the ideas from professional interior designers, and offering tips to the consumers on how to pick the products to best suit their needs.