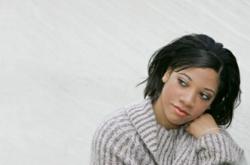 Black women are less likely than white women to experience severe PMS.
San Francisco, CA (PRWEB) December 12, 2011
PMDD (premenstrual dysphoric disorder) causes women severe suffering each month, with symptoms that can mimic depression, anxiety, and other mood disorders, not to mention the physical symptoms typical of PMS such as bloating, cramps, and aches and pains. Now new research is revealing that African-American women appear to be less susceptible to PMDD as well as to premenstrual symptoms overall—even though women who experience sex- and race-based discrimination are more likely to have PMDD.
PMDD is defined as five or more severe PMS-like symptoms occurring during most cycles over the previous year, with those symptoms significantly interfering with a woman's ability to accomplish her responsibilities, maintain relationships, and enjoy life. PMDD affects 3-8% of women, meaning well upwards of 2 million women in the U.S. suffer from debilitating premenstrual symptoms each month.
The current study was published in Psychological Medicine earlier this year, and compared the premenstrual experience of over 1600 black women (including Afro-Caribbean) and over 900 white women (including Latinas). Black women's risk of PMDD in this population was less than 50% that of Caucasian women, and that they also were less likely to have premenstrual symptoms overall.
The authors of this study hypothesize, and point to other findings that support the hypothesis, that blacks are less susceptible than whites to psychiatric disorders. This study confirms one possible health advantage that black women experience compared to white women.
About: PMS Comfort is an online health organization dedicated to educating and empowering women on the subject of PMS and PMDD, as well as to providing natural alternatives for the relief of premenstrual symptoms. Dr. Daniel Heller is the founder of PMS Comfort.
##