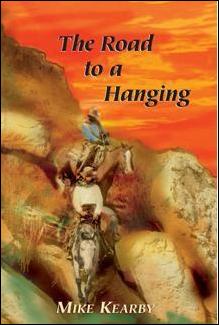 …characters of the Texas frontier (that) defy one-dimensional stereotypes.
Dallas, TX (PRWEB) September 5, 2006
The Road to a Hanging (Trail's End Books) by Mike Kearby, will be released October 1, 2006. The book is for sale through Hastings and through the author, http://www.mikekearby.com.
About The Book
The year is 1868. Free Anderson is framed by outlaw Sheriff Jubal Thompson. Awaiting hanging in The Flats, known as the toughest town in Texas, Free finds help from ex-slave Clara Mason and Civil War friend Parks Scott.
Parks rescues Free from the hangman's noose and the two men urgently ride to the far reaches of West Texas seeking proof of Free's innocence. Encountering Kiowa Indians and Mexican rustlers along the way, Free and Parks ultimately confront Jubal on the Comancheria, where justice is rendered in true West Texas fashion.
Young adult and juvenile fiction audiences will enjoy this mustang-mounted quest for freedom on the open range. The novel is a smart acquisition for middle and high school libraries, and makes an engaging selection for study during Black History Month.
The author begins his Texas book tour in October, and is available to speak to schools about his black history novel. For tour schedule and to pre-order the book, visit http://www.mikekearby.com.
"…characters of the Texas frontier (that) defy one-dimensional stereotypes."
-Roy G. Robinson, Publisher, Graham Newspapers
About The Author
Mike Kearby is from Mineral Wells, Texas, where helicopter pilots trained during the Viet Nam war. Mike remembers sensing the unspoken racial divisions in his town during the Civil Rights Movement. His love of the Western genre and the African-American story come together in The Road to a Hanging. This black history novel debuts Kearby's cowboy trilogy. His second book, Ride the Desperate Trail, is due in the fall '07.
# # #