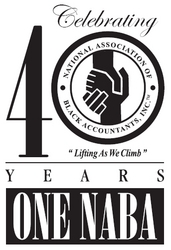 NABA has earned its leadership position within the accounting and finance profession based on our ability to not only adapt to needs and respond to market trends - but also to remain one step ahead of that curve, developing talent and initiatives and programs that give our members and corporate partners a competitive advantage
Greenbelt, MD (PRWEB) July 30, 2008
Walter J. Smith, CPA, was recently elected 23rd National President and Chief Executive Officer of the National Association of Black Accountants, Inc. (NABA), the nation's premier organization for minority professionals in the business related fields of accounting, auditing, consulting, finance, information technology and tax. Smith's two-year term began July 1, 2008.
"40 Years, One NABA" is the vision and theme under which Smith will lead NABA. "I'm very excited to lead NABA and to lead such a talented group of national board members," said Smith, vice president of Financial Reporting at Prudential Financial Inc. in Newark, New Jersey. "Our energy and drive over the next two years will be centered on galvanizing our organization and our stakeholders. As a maturing organization approaching our 40th anniversary, we will remain true to our brand and our past while increasing the investment in our future. There is no brand quite like ours."
Smith has been a NABA member for over 20 years, and recently completed his second two-year term on the NABA Board of Directors. He is a Lifetime Member, and recently received the 2008 NABA Award for National Achievement in Industry. He was also named one of the Top 20 Diversity Champions by Diversity Edge magazine in 2007. Previously, he chaired the Organizational Effectiveness & Personnel and the Chapter Development & Effectiveness Committees. He also served on both the Finance and the Strategic Planning Committees. He is a former NABA Eastern Region Vice President and Secretary. In his role at Prudential, he has oversight for Separate Accounts, Cash Management, and Operational Risk for the Life and Annuities businesses.
"We are extremely pleased to have Walter take the reigns as our new president. Walter is well respected throughout NABA because he has earned it. As a leader, he'll find there's no substitute for that kind of support," commented Shariah Dixon-Turner, CFSA, newly elected Executive Vice President of NABA, Inc.
"This is an exciting time for our organization as well as for our members," said Gregory Johnson, CPA, NABA's Executive Director and COO. "NABA has earned its leadership position within the accounting and finance profession based on our ability to not only adapt to needs and respond to market trends - but also to remain one step ahead of that curve, developing talent and initiatives and programs that give our members and corporate partners a competitive advantage," Johnson continued.
Smith attended the Medgar W. Evers College in Brooklyn, New York where he received a Bachelor of Science in Accounting. He is a Lifetime Member of the Medgar Evers College Alumni Association, Inc., and formerly served as Parliamentarian and Director on the Board of Directors. He is also a Lifetime Member of ALPFA - the Association of Latino Professionals in Finance & Accounting.
About NABA:
The National Association of Black Accountants Inc. (NABA), which represents the interests of more than 100,000 African Americans and minorities in furthering their educational and professional aspirations in the related business fields of accounting, consulting, finance, information technology and tax, is one of the premier professional organizations in the nation. Established in 1969 by nine African-American accountants in New York City, the organization currently boasts more than 200 professional and student chapters across the country. For additional information about NABA, please contact NABA at (301) 474-6222 or visit http://www.nabainc.org.
###