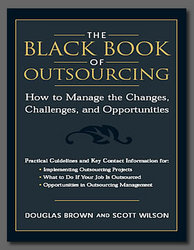 What's Next, What's Booming and What's Busted
Tampa, FL (PRWEB) June 23, 2008
The annual State of the Outsourcing Industry report out from the Brown-Wilson Group showcases the results of five years of outsourcing research and up to date insight from twenty-four thousand outsourcing customer survey respondents from 40 countries.
The sixty-page report includes the top performing vendors, advisors and consultants, locations, and outsourcing trends - plus reveals "What's Next, What's Booming and What's Busted" for the evolving, dynamic and often controversial industry. The Best Managed Outsourcing Vendors and Consulting Firms that excelled at providing value and process transformation to the global business community are identified in the annual report, completely based on comprehensive client experience surveys. Over 3000 vendors and 200 advisory consultant firms qualified to be ranked by customer recommendations.
Twelve of the Top 20 outsourcing supplier positions were awarded to US firms: (1) Hewlett Packard, (2) Perot Systems (3) CSC (4) Unisys (5) EDS (9) ADP (10) CIBER (11) Accenture (13) Fidelity Employer Services (16) Oracle (17) ICG Commerce and (19) Computer Associates, a major shift from 2004 when only two American firms were ranked by customer satisfaction ballots.
Five Indian firms, (6) Wipro (7) Satyam, (8) Genpact (14) Cognizant (15) Tata Consultancy Services closed out the Top 20. Notably all five are boosting their American-based client service operations.
Indian firms, which dominated more than half of the coveted positions in past years, accounted for just ten of the Top 50 in 2008 - the same number as ranked outsourcing firms based in Europe.
Nineteen firms have appeared on the Top 50 Black Book list for the five consecutive years of the survey, a distinct honor from over five thousand global outsourcing vendors.
One interesting change was the scorecard plummets of offshore suppliers that have not responded adequately to the demand of American and European clients who want their front office operations nearby or onshore with their backoffice savings from less expensive offshore locations including India. The industry evolution termed "reverse outsourcing" is currently compelling clients to discharge inflexible offshore vendors. Conspicuously, previous Black Book Top 50 customer service winners Infosys, ICICI Firstsource, Hexaware Caliber Point, EXL Service and Convergys, all fell off the high client approval ranks.
Opportunities arose for many European outsourcing firms to enter the ranks with customer satisfaction advances including (12) Capgemini (18) Logica (20) Steria Xansa (29) BT Global (35) Orange Business Services (38) Xchanging (42) Siemens (43) TietoEnator (46) SAP and (50) KPN Getronics.
For a second consecutive year the intensely-watched Chinese outsourcing firms did not earn any of the coveted Black Book positions. However, Latin America emerging client favorites (24) CPM Braxis and (26) Neoris pushed far ahead on the list.
Destination preferences also shifted in 2008 as South Africa, once thought to be the next big hot spot for offshoring, receiving very low satisfaction and forward-looking investment interest. Growing offshore attention now brightly shines on Brazil, Chile, and Eastern Europe. The majority of clients who indicated outsourcing service expansions to China in 2008 report cautious hesitance, putting advancement plans on hold as infrastructure and training issues are addressed.
The fastest growth is predicted in the areas of outsourced Finance & Accounting, Procurement, and Technology Infrastructure and Applications, especially Bundled ITO/BPO, while business intelligence and analytics were ranked as the outsourced technology capabilities having the greatest impact for clients in the next year.
Government clients were the most content overall with highest praise for (2) Perot Systems (3) CSC (4) Unisys (5) EDS (10) CIBER (11) Accenture (23) Northop Grumann (27) CACI (31) ACS and (48) IBM.
The Black Book methodology employs an online survey instrument conducted over eight weeks each spring. Hundreds of thousands of invitations are distributed and survey respondents were given an "open-text" opportunity to identify client experiences in 44 Black Book key performance indicators that had the most influence on their business performance over the course of the past year. Clients weighted indicators on trust, reliability, and customer relationships as those most influencing their vendor selection decisions in 2008. Looking ahead, deep vertical expertise and customization were determined to be the next big outsourcing vendor requirement to attain to maintain and grow customer satisfaction in 2009.
Results will be featured in the Wall Street Journal Online, July 6 and BusinessWeek magazine, August 18 issue. "The Black Book of Outsourcing" authored by Brown-Wilson Group principals, is the world's bestselling book on the subject of outsourcing and available in a completely revised edition this July 14 from John Wiley & Sons Publishers where ever books are sold.
2008 top outsourcing vendors:
Information Technology Outsourcing Vendor - Perot Systems
Human Resources Outsourcing Vendor - ADP
Finance & Accounting Outsourcing Vendor - Hewlett Packard
Business Process Outsourcing Vendor - Genpact
2008 top outsourcing advisors & consulting firms:
Full Service Outsourcing Advisor - TPI
Information Technology Outsourcing Advisor - TPI
Human Resources Outsourcing Advisor - TPI
Finance & Accounting Outsourcing Advisor - Pricewaterhouse Coopers
Business Process Outsourcing Advisor - Avasant (formerly Stradling Global Sourcing)
Independent Outsourcing Research Firm - Everest Group
Outsourcing Benchmarking Advisor - Gartner
Legal Outsourcing Advisor - Hunton & Williams
Globalization Advisor - McKinsey
The entire Black Book Top 50 Best Managed Outsourcing Vendors List and Advisors are available In the 2008 State of Outsourcing Industry Report by Brown-Wilson Group & "The Black Book of Outsourcing" which can be downloaded free at
http://www.theblackbookofoutsourcing.com/docs/2008%20State%20of%20Outsourcing%20Industry%20Report.pdf
Scott Wilson & Doug Brown
Managing Partners, Brown Wilson Group
727-784-6689
###